"Thou Shalt … Offer Up Thy Sacraments upon My Holy Day"
Reading assignment
Doctrine and Covenants 59;
Bible Dictionary, "Sabbath," pages 764–65.
Links: Teacher's manual | Student manual
Overview
So it's no secret that something's going on in the LDS Church. It's having a truth crisis. People keep leaving. Some are finding out about its awful history. Others are feeling at odds with its policy with regard to LGBT people and marriage equality. It seems like every member knows someone who left.
The leadership is surely aware of this, and have tried to patch the problem with essays. But the essays are only intended for members with one eye on the door. What has been the focus for members?
I was mystified by this. They're facing an exodus, and they respond with a kind of boilerplate response that's not even related to the problem? That's the kind of thing you come up with for a stake conference, not for a church in crisis.
"They're not coming to church? Then let's tell them to go to church more!"
At first, I thought they'd lost it. Had the Q15 been in church leadership so long that they'd lost touch with humans? Are they in denial? But then I remembered that these guys have been professionally fleecing people for a long time, and the church still exists largely because they've made the right moves.
So could there be something behind the whole Sunday thing?
Turns out that this was probably a really good choice. Here's why.
Informational bubbles depend on strong social networks. If people keep relying on communal reinforcement, people feel like the beliefs of the group are true. Or they don't mind as much if they're not true. Or they'll interpret ambiguous information in the most charitable light. So getting people together is a good move. So is cultivating a group mentality, separate from other people. An emphasis on Sabbath observance does both those things.
With that in mind, let's take a look at Section 59, and see how this works.
Reading
The world is dirty
If you want to have an ideological community, you have to make it look like other communities are wrong. That's why there's a very strong anti-world thread running through LDS doctrine.
D&C 59:9 And that thou mayest more fully keep thyself unspotted from the world, thou shalt go to the house of prayer and offer up thy sacraments upon my holy day;
The world gives you spots. It's a dirty place.
Do nothing
You're also supposed to carve off huge blocks of time doing nothing.
D&C 59:13 And on this day thou shalt do none other thing, only let thy food be prepared with singleness of heart that thy fasting may be perfect, or, in other words, that thy joy may be full.
14 Verily, this is fasting and prayer, or in other words, rejoicing and prayer.
Fasting, while not exactly synonymous with rejoicing, is probably a good thing to do for a while. More and more people these days are doing intermittent fasting. That includes Your Humble Gospel Doctrine Teacher; I'm doing alternate-day fasting. Food fads are silly, but there is some science backing this up.
Alternate-day fasting trials of 3 to 12 weeks in duration appear to be effective at reducing body weight (≈3%-7%), body fat (≈3-5.5 kg), total cholesterol (≈10%-21%), and triglycerides (≈14%-42%) in normal-weight, overweight, and obese humans.
This could easily reverse with more research, and if it all turns out to be fake, I'm okay with that; it's still working for me in the medium term and I'm not going to go overboard on it. Modest claims for modest evidence.
But one thing I've noticed is that fasting puts you in a bit of an altered state. My wife comments that I seem slightly more light-headed and intense on fasting days. That must be the ketosis, as my body breaks down long chains of ketones into energy. (It also gives the faster the characteristic 'temple breath'. How many times did I have to try to remember the Five Points of Fellowship with my arms wrapped around some elderly temple worker with ketosis.)
Religions love their altered states, and if you take a person who's fasting and put them in a room where all they can do is read the scriptures — voilá! Spiritual experience!
Loud laughter
You might remember how, in an earlier lesson, we saw that some early church members got a bit boisterous in meetings. This must have triggered quite a backlash! Now there's a huge reaction against anything indecorous, raucous, or indeed interesting. This means that in the 21st century, you can't bring a drum into a chapel for a musical number, and… they tell you how you can laugh. Controlling much?
D&C 59:15 And inasmuch as ye do these things with thanksgiving, with cheerful hearts and countenances, not with much laughter, for this is sin, but with a glad heart and a cheerful countenance
The prohibition on loud laughter also pops up in the temple endowment ceremony. So what's up with this?
I think this has to do with how people support bad ideas. If you're confronted with flat-earthism, climate denialism, religion, or other silly (or dangerous) beliefs, you could patiently explain why someone is wrong. That can at times be a good strategy. If the person is convincible, or it's someone you have a relationship with, patient explanation (and at times saying nothing) is a good way to go.
But in other situations, where you're in a forum with observers, against someone who's not going to shift, then dropping a bit of sass can be just the thing. It gets people not to take the belief seriously. Ridicule is appropriate for ridiculous ideas.
For religions, respect confers legitimacy. Ridicule undercuts all of that. Mockery doesn't hurt good ideas, but it's fatal to bad ones, which is why mockery has been so effective against religion.
Here's a cartoon I did a while ago. The main point was: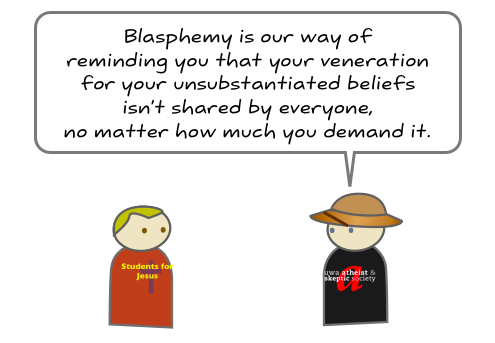 Click on the image to read the whole thing.
Loud laughter is something religions just can't withstand. That's why they demand that they be met soberly and seriously. Don't play into it. Deploy ridicule judiciously.
The earth belongs to humans
Here's one of the more dangerous ideas: the earth and other animals belong to us.
D&C 59:16 Verily I say, that inasmuch as ye do this, the fulness of the earth is yours, the beasts of the field and the fowls of the air, and that which climbeth upon the trees and walketh upon the earth;
If we treated things well, that would be fine. Unfortunately, we only seem to exploit public goods. Our effect on the earth has been disastrous. I don't want to get all cosmic here, but it seems to me that we'd do a lot better if we thought of ourselves as a part of the earth, instead of as owners. People who accept evolution seem to get this; people in the human-supremacy movement (including, apparently, Mormons) don't.
And this attitude is just making it harder for us to survive.

God gets pissed
Was this one of the sections that was dictated in one big stream of consciousness? Because you can tell that Joseph Smith was totally free-styling here.
D&C 59:21 And in nothing doth man offend God, or against none is his wrath kindled, save those who confess not his hand in all things, and obey not his commandments.
Isn't it strange that this is the all-powerful creator of the universe, and what really ticks him off is not getting acknowledged by puny mortals? Why would an omnipotent being need humans to obey him? And what's with the wrath?
Talk to the Spock.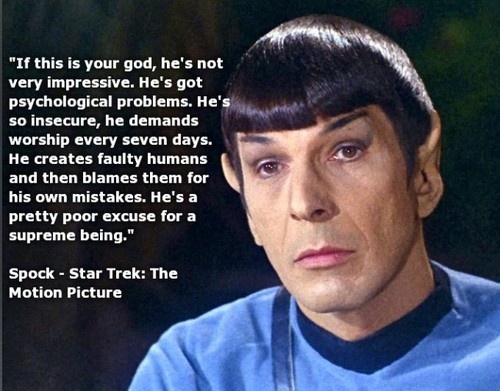 Conclusion
A renewed focus on Sabbath observance may help shore up members in the short term. The church will still have considerable issues in the medium- to long-term, however, and these won't be so easily dealt with
There's a major problem with using church meetings as a tool: they're terrible. Even as a Mormon, I had to acknowledge that going to church was the worst part of church. Meetings are dour, boring, and repetitive. And why would it be necessary to use communal reinforcement if a belief is true? It's been years since I studied (let's just pick an example) continental drift. Yet I still think it's as true as I ever did.  It's only nonsense that needs to be constantly shored up. This should be a warning to church-goers.