"The Gathering of My People"
Reading assignment
Doctrine and Covenants 29:1–8; 33:3–7; 37; 38:24–41; 52:2–5, 42–43; 57:1–3; 110:11;
Articles of Faith 1:10;
Our Heritage, pages 16–23, 37–39.
Links: Teacher's manual | Student manual
Overview
I'm approaching this lesson with a bit of nostalgia. Here's the thing: Mormon doctrine used to be so weird and cool! But then they dumped a lot of the weird bits, once it became clear that they were embarrassing or unpalatable. This is why President Newsroom says you no longer get your own planet, even though prophets said that you do. (Blame that musical.)
And there used to be absolutely bonkers ideas about the gathering of Israel, and about how everyone would eventually have to go to Jackson County, Missouri. Well, these ideas came out of this time in church history.
But they've been deprecated. So now Mormon doctrine is still weird, but boring.
Reading
The gathering of Israel
Okay, so one of the core tenets of the church is that Israel will be gathered during the last days before Jesus comes again.
Article of Faith 10: We believe in the literal gathering of Israel and in the restoration of the Ten Tribes; that Zion (the New Jerusalem) will be built upon the American continent; that Christ will reign personally upon the earth; and, that the earth will be renewed and receive its paradisiacal glory.
It's in this reading as well.
D&C 29:7 And ye are called to bring to pass the gathering of mine elect; for mine elect hear my voice and harden not their hearts;
8 Wherefore the decree hath gone forth from the Father that they shall be gathered in unto one place upon the face of this land, to prepare their hearts and be prepared in all things against the day when tribulation and desolation are sent forth upon the wicked.
D&C 33:6 And even so will I gather mine elect from the four quarters of the earth, even as many as will believe in me, and hearken unto my voice.
Gather? How were they scattered? Well, as this lesson explains, the ten northern tribes of Israel were used as a punching bag by a succession of kings, until they were dispersed into the lands northward.
So where are the ten lost tribes of Israel now? Ah, well, that brings us to our first crackpot theory:
They're all together on a planet somewhere.
This planet is actually a big hunk of the earth that God tore off, and threw into space. Hey, don't look at me like that. There's a precedent: the city of Enoch, which God took up to heaven.
D&C 38:4 I am the same which have taken the Zion of Enoch into mine own bosom
And this idea seems to have circulated among the members of the early church. This bit from Eliza R. Snow was once in the hymnal:
Thou, Earth, was once a glorious sphere
Of noble magnitude,
And didst with majesty appear
Among the worlds of God.

But thy dimensions have been torn
Asunder, piece by piece,
And each dismember'd fragment borne
Abroad to distant space.

When Enoch could no longer stay
Amid corruption here,
Part of thyself was borne away
To form another sphere.

That portion where his city stood
He gain'd by right approv'd;
And nearer to the throne of God
His planet upward moved.

And when the Lord saw fit to hide
The "ten lost tribes" away,
Thou, Earth, wast sever'd to provide
The orb on which they stay.

And thus, from time to time, thy size
Has been diminish'd still
Thou seemest the law of sacrifice
Created to fulfil.
Before you say, "That's not how planets work," remember that God can do anything.
They're somewhere else
They're all in one place, unobserved somewhere, waiting for the signal to come on down. After all, didn't Jesus go and visit them? How could he do that — the logic goes — if they're not all in one place?
3 Nephi 15:21 And verily I say unto you, that ye are they of whom I said: Other sheep I have which are not of this fold; them also I must bring, and they shall hear my voice; and there shall be one fold, and one shepherd.
3 Nephi 16:1 And verily, verily, I say unto you that I have other sheep which are not of this land, neither of the land of Jerusalem, neither in any parts of that land round about whither I have been to minister.
16:2 For they of whom I speak are they who have not as yet heard my voice; neither have I at any time manifested myself unto them.
16:3 But I have received a commandment of the Father that I shall go unto them, and that they shall hear my voice, and shall be numbered among my sheep, that there may be one fold and one shepherd; therefore I go to show myself unto them.
Okay, so if they're all together waiting for the bat-signal, where are they?
Hollow Earth
For a while, Mormonism partook of a crackpot hypothesis that was going around in the 1820s: the earth is hollow and you can go inside. There's a lot of stuff in there, including its own sun. (Some people have thought that we're actually on the inside of it now, and we don't know it.)
Joseph Smith allegedly taught this idea.
"I was then really 'the bosom friend and companion of the Prophet Joseph.' … Sometimes when at my house I asked him questions relating to the past, present and future; … one of which I will relate: I asked where the nine and a half tribes of Israel were. 'Well,' said he, 'you remember the old caldron or potash kettle you used to boil maple sap in for sugar, don't you?' I said yes. 'Well,' said he, 'they are in the north pole in a concave just the shape of that kettle. And John the Revelator is with them, preparing them for their return."
– Benjamin Johnson, My Life's Review, 1947, p. 93

"I heard Joseph Smith preach baptism for the dead…. I heard him say, 'the Ten Tribes were not on this globe, but a portion of this earth had cleaved off with them and went flying into space, and when the time comes when the "earth reels to and from like a drunken man and the stars from heaven fall," it would join on again.'"
– Bathsheba W. Smith, "Recollections of the Prophet Joseph Smith, The Juvenile Instructor, June 1, 1892, v. 27, p. 34

"The Prophet Joseph [Smith] once in my hearing advanced his opinion that the Ten Tribes were separated from the Earth; or a portion of the Earth was by a miracle broken off, and that the Ten Tribes were taken away with it, and that in the latter days it would be restored to the Earth or be let down in the Polar regions. Whether the Prophet founded his opinion upon revelation or whether it was a matter of mere speculation with him, I am not able to say."
– Apostle Orson Pratt, Letter Box of Orson Pratt, LDS Church Historian's Office, letter to John C. Hall, December 13, 1875; see Abanes, One Nation Under Gods, p. 529, footnote 101
This idea is fact-free lunacy, but it hasn't stopped some Mormons from taking it seriously. Rodney Cluff has written generous amounts about it.
The Ten Tribes then continued north over the Caucasus Mountains and encamped north of the Black Sea, where many stayed. But a sizeable group continued their trek north into Russia, Mongolia and Siberia, where some of their remains have been found to this day. But they didn't stay there either. Their trek took them even further north through the northern aperture of the earth led by a prophet of God where they live today in the "North Countries" of Our Hollow Earth.
Sadly, plans for an expedition to find the hole have hit some setbacks. Ripping stuff!
God's way: the highway
So if the ten tribes of Israel are hidden away up in the frozen north, how will they get down here when it's time to return? A highway. This idea appears in Isaiah (sing the Handel if you know it):
Isaiah 40:1 Comfort ye, comfort ye my people, saith your God.
40:2 Speak ye comfortably to Jerusalem, and cry unto her, that her warfare is accomplished, that her iniquity is pardoned: for she hath received of the LORD's hand double for all her sins.
40:3 The voice of him that crieth in the wilderness, Prepare ye the way of the LORD, make straight in the desert a highway for our God.
And then it appears in the D&C. This lesson has a lot of scriptures, but why is it that they don't mention D&C 133? They've left it right out, and it's enormously relevant for us Israel-watchers! Especially the part about the highway.
Mountains turn into valleys; valleys into mountains.
D&C 133:22 And it shall be a voice as the voice of many waters, and as the voice of a great thunder, which shall break down the mountains, and the valleys shall not be found.
This would require a quake of about 7 billion on the Richter scale, but let's keep going.
Then the ocean flows up the the north for some reason.
D&C 133:23 He shall command the great deep, and it shall be driven back into the north countries, and the islands shall become one land;
Before you say, "That's not how water works," remember that God can do anything.
Then for the finale: The reversal of continental drift! That's right; Pangea and Gondwanaland together again like they've never been before!
D&C 133:24 And the land of Jerusalem and the land of Zion shall be turned back into their own place, and the earth shall be like as it was in the days before it was divided.
Before you say, "That's not how plate tectonics works," remember that God can do anything.
Finally after all that: a gigantic ice highway! (Sorry: an highway.) They've lived in the North for so long that they've absorbed its powers and become icebenders! So Frozone.
D&C 133:25 And the Lord, even the Savior, shall stand in the midst of his people, and shall reign over all flesh.
26 And they who are in the north countries shall come in remembrance before the Lord; and their prophets shall hear his voice, and shall no longer stay themselves; and they shall smite the rocks, and the ice shall flow down at their presence.
27 And an highway shall be cast up in the midst of the great deep.
Slippery, but effective.
Orson Pratt bought it.
"To show that they come with power they come on a highway cast up for them; and ice feels the power of God and flows down, making room for them; and the barren deserts of the north, wherever they may go and need water, will yield forth pools of living water to quench their thirst. As they come to sing in the height of Zion, the everlasting hills, this great Rocky Mountain range, extending from the arctic regions south to the central portions of America, will tremble beneath the power of God at the approach of that people. . . . But where have this great company been, where has this mighty host come from? They have come from their hiding place in the north country; they have been led thence by the Prophets of the Most High God, the Lord going before their camp, talking with them out of the cloud, as he talked in ancient days with the camp of Israel, uttering his voice before his army, for his camp will be very great."
Some Mormons have speculated about this.
The scriptures clearly teach that Israelites will someday return from the north countries. The Lord has revealed that they will do so on a highway that is cast up in the great deep. If that is interpreted literally, science has no explanation of where they might be located, much less for the sudden appearance of a land bridge across a deep ocean. Therefore, if the prophecy in D&C 133 of their return as a group along a highway is fulfilled literally, it would be a miracle. Such an event could cause many more to believe in the restoration, and others to vow to fight against it more vehemently. Time will tell just how literally the Lord meant this prophecy of a highway to be interpreted, but in any case it should be a marvelous event to witness.
Alas, the church nowadays doesn't go for anything like that. The remnants of Israel aren't in one place, but mixed. Says Bruce McConkie:
But, says one, are they not in a body somewhere in the land of the north? Answer: They are not; they are scattered in all nations. The north countries of their habitation are all the countries north of their Palestinian home, north of Assyria from whence they escaped, north of the prophets who attempted to describe their habitat. And for that matter, they shall also come from the south and the east and the west and the ends of the earth. Such is the prophetic word.
And instead of coming back en masse, the gathering of Israel has a much more mundane meaning. From the Gospel Doctrine manual:
• Read the tenth article of faith and D&C 45:71 with class members. What is the gathering of Israel? (Explain that the gathering of Israel has a spiritual meaning and a physical meaning, as outlined below.)

a. Spiritual gathering. The spiritual gathering of Israel occurs as people learn the gospel, come unto Christ, are baptized into The Church of Jesus Christ of Latter-day Saints, and keep their covenants. In this way they are gathered from the world into the Church, or the kingdom of God on earth.
b. Physical gathering. The physical gathering of Israel occurs as Church members come together in a particular location or in the stakes of Zion throughout the world.
In other words, the gathering of Israel is basically "everyone going to church". Boring! Not nearly as momentous as the scriptures would make it sound.
This is like when the scriptures talk about the gift of tongues, and over time, this has been watered down into "learning languages at the MTC". How disappointingly ordinary.
Zion is in Jackson County, Missouri
One of the ideas that was going around in my LDS background was that one day the prophet would tell the Saints that it was finally time to move to Jackson County, Missouri. But not drive. Walk. With handcarts.
It was sometimes referred to jokingly — once when someone left the ward, someone else joked "See you in the handcart company!" — but the belief was definitely back there. This scripture explains the importance of Jackson County for the early saints.
D&C 57:1 Hearken, O ye elders of my church, saith the Lord your God, who have assembled yourselves together, according to my commandments, in this land, which is the land of Missouri, which is the land which I have appointed and consecrated for the gathering of the saints.
2 Wherefore, this is the land of promise, and the place for the city of Zion.
Sadly, the promise didn't stick — Mormons had to flee Missouri, but the mythos surrounding Jackson County remained. So another narrative was built, in that Mormons thought they were going to have to make a trek to Missouri and reclaim Zion.
What did they think would happen once they got there? You don't just own a place because you squat there. But before you say, "That's not how real estate works," remember that God can do anything.
Anyway, how did this belief work its way into Mormon lore? Might be a quote from Joseph F. Smith in 1882 (cited here, but also sadly hosed down):
"When God leads the people back to Jackson County, how will he do it? Let me picture to you how some of us may be gathered and led to Jackson County. I think I see two or three hundred thousand people wending their way across the great plain enduring the nameless hardships of the journey, herding and guarding their cattle by day and by night. … This is one way to look at it. It is certainly a practical view. Some might ask, what will become of the railroads? I fear that the sifting process would be insufficient were we to travel by railroads." (Journal of Discourses, 24:156–57.)
And that's how Brother Hickendorfer in a suburban ward in Idaho Falls thought he might need to get some cattle and a handcart.
You really get the picture that the leaders of the early church were just bursting with zany ideas, which people later had to get rid of when their crackpottery became clear. But it's weird for an apologist to try and pull rank on a past prophet, like so: "Oh, don't listen to that guy — he's just an apostle who knew Joseph Smith. He didn't know anything about the gospel; you might as well ask the cat. Listen to me — I'm some guy writing in the Ensign!"
United Order
Did you know that the United Order — in which members were expected to give the church all their stuff and then get some of it back — was floated as early as 1831?
D&C 42:30 And behold, thou wilt remember the poor, and consecrate of thy properties for their support that which thou hast to impart unto them, with a covenant and a deed which cannot be broken.
31 And inasmuch as ye impart of your substance unto the poor, ye will do it unto me; and they shall be laid before the bishop of my church and his counselors, two of the elders, or high priests, such as he shall appoint or has appointed and set apart for that purpose.
32 And it shall come to pass, that after they are laid before the bishop of my church, and after that he has received these testimonies concerning the consecration of the properties of my church, that they cannot be taken from the church, agreeable to my commandments, every man shall be made accountable unto me, a steward over his own property, or that which he has received by consecration, as much as is sufficient for himself and family.
33 And again, if there shall be properties in the hands of the church, or any individuals of it, more than is necessary for their support after this first consecration, which is a residue to be consecrated unto the bishop, it shall be kept to administer to those who have not, from time to time, that every man who has need may be amply supplied and receive according to his wants.
34 Therefore, the residue shall be kept in my storehouse, to administer to the poor and the needy, as shall be appointed by the high council of the church, and the bishop and his council;
This idea was deprecated when it turned out not to work. No doubt the idea strikes many politically conservative members as socialism.
So there you have it. Three big ideas in the early church — Israel's literal return, the handcart trek to Missouri, and the United Order — that came to nothing. They were watered down or dropped entirely. And what we can conclude from this is that God is a bit of a loser who isn't good at making things happen.
By the way, LDS Church: Evangelical Christians still can't stand you, even though you've dropped some of the weird stuff. If someone makes you change your doctrines, they're not your friend.
Other suggestions for teaching
Orson Hyde
Orson Hyde was tasked with the important calling of dedicating the so-called Holy Land for the return of Israel. Joseph Smith said it was super important.
From the Gospel Doctrine manual:
Orson Hyde recalled that when he joined the Church, Joseph Smith prophesied, "In due time thou shalt go to Jerusalem … ; and by thy hands shall the Most High do a great work, which shall prepare the way and greatly facilitate the gathering together of that people" (History of the Church, 4:375). In the April 1840 general conference, Elder Hyde, then a member of the Quorum of the Twelve, was called on a mission to Palestine (History of the Church, 4:106). About 18 months later he arrived at his destination.

Early on Sunday morning, 24 October 1841, Elder Hyde ascended the Mount of Olives and offered a prayer. In his prayer he dedicated and consecrated the land "for the gathering together of Judah's scattered remnants, according to the predictions of the holy Prophets—for the building up of Jerusalem again … and for rearing a Temple in honor of [the Lord's] name." He also prayed that the Lord would remember the seed of Abraham, Isaac, and Jacob forever and "give them this land for an everlasting inheritance" (History of the Church, 4:456).

As a witness of the deed, Elder Hyde erected a pile of stones on the top of the Mount of Olives. He also erected a pile of stones "on what was anciently called Mount Zion [possibly Mount Moriah], where the Temple stood" (History of the Church, 4:459).
Very inspiring! Yet another group lays claim to the land. Wonderful.
What was going on with his wife Marinda, while Orson was away? For some reason, the lesson manual doesn't mention that Joseph Smith married her.
In the Spring of 1842 she married Joseph. In Joseph's diary is a list of his marriages. It includes the entry: "Apr 42 Marinda Johnson to Joseph Smith.". Eight months later, in December, Orson returned from his mission. It is not clear when, or if, Orson learned about his wife's marriage to Joseph. However, by March, Orson had learned about plural marriage himself and married two additional wives.
This was kind of a pattern for Joseph Smith.
A second method Smith used to get females to say yes to his proposals was to send family males on a mission that might or did object to his advances. For example, unlike his approach of obtaining parental permission of the Whitney's, Kimball's, and the Woodworth's, before asking for their young daughters hand in marriage, Smith directly approached young Lucy Walker only after sending her father, John Walker, on a mission. He also sent Horace Whitney on a mission because he felt that Horace was too close to his sister Sarah Ann, and would oppose the marriage. Smith married Marinda Nancy Johnson Hyde, a year before her husband Orson, an Apostle, returned from his mission. He also approached Sarah Pratt while her husband Orson, an Apostle, was on a mission.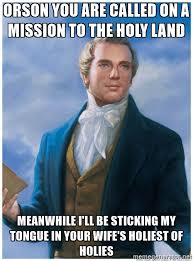 We don't know if this marriage was one of the sexual ones. Maybe he just had a thing for the wives of guys named Orson.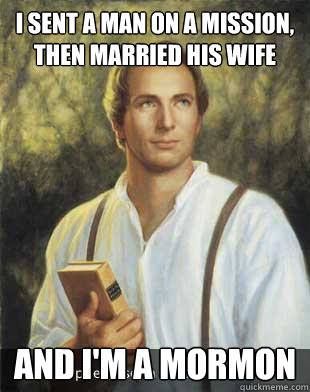 Not to be taught, but to teach
What attitude should missionaries have?
D&C 43:15 Again I say, hearken ye elders of my church, whom I have appointed: Ye are not sent forth to be taught, but to teach the children of men the things which I have put into your hands by the power of my Spirit;
Good job, LDS Church. You've already taken a pile of Mormon teenagers, given them fake authority, and made them think they were doing the right thing by hectoring normal people into joining their religion. That made them unbearable enough. But with this scripture, you've compounded the problem by telling them that they're not supposed to learn anything from the people they encounter. True, they won't be able to help learning from people. But this takes an existing superiority complex (it's our job to save the nations) and combines it with an attitude of unteachable lack of humility (I'm not here to learn from these people) to turn a douchy, arrogant teenager into a truly insufferable know-it-all.
I, um, know this from experience. Sorry to everyone I encountered.