"God Himself . . . Shall Redeem His People"
Mosiah 12–17
LDS manual: here
Purpose
To show that ex-Mormons behave with much greater courage and strength of conviction than LDS leaders.
Reading
At the tail end of our last reading, a character named Abinadi popped up. He was a bit of a scold, but a plucky one. This lesson's about him.
It seems that King Noah (invariably portrayed as obese) is wicked, and we know he's wicked because he does the one thing you're never supposed to do:
Mosiah 11:1 And now it came to pass that Zeniff conferred the kingdom upon Noah, one of his sons; therefore Noah began to reign in his stead; and he did not walk in the ways of his father.
11:2 For behold, he did not keep the commandments of God, but he did walk after the desires of his own heart….
Ooo — bad move! Remember, what you want is either evil or inconsequential because of that whole "natural man" thing.
What else does this wicked king do?
Mosiah 11:2 …And he had many wives and concubines. And he did cause his people to commit sin, and do that which was abominable in the sight of the Lord. Yea, and they did commit whoredoms and all manner of wickedness.
Wow, the Book of Mormon is really anti-polygamy. It's amazing that early LDS people were able to accommodate both. What else?
Mosiah 11:3 And he laid a tax of one fifth part of all they possessed, a fifth part of their gold and of their silver, and a fifth part of their ziff, and of their copper, and of their brass and their iron; and a fifth part of their fatlings; and also a fifth part of all their grain.
Taxing their ziff? NOW HANG ON
This passage feeds into a lot of anti-taxation sentiment running about in the USA. I'm not a taxation specialist, but it seems to me that 20% is on the low side, as far as things go. It tends to run in the thirties for the USA, and they hardly cover anything.
That's for individuals. For corporations, the tax rate is effectively zero, even in a socialist country like Australia. And churches? Pffft. They're tax-exempt, and this is costing all of us.
Bottom line: Churches have a lot of nerve incorporating anti-tax sentiment into their theology.
Mosiah 11:8 And it came to pass that king Noah built many elegant and spacious buildings; and he ornamented them with fine work of wood, and of all manner of precious things, of gold, and of silver, and of iron, and of brass, and of ziff, and of copper;
11:9 And he also built him a spacious palace, and a throne in the midst thereof, all of which was of fine wood and was ornamented with gold and silver and with precious things.
Buildings and thrones that no one can find.
And we do keep finding artefacts from other civilisations. Here's a team that found a 9,200 year-old settlement in Sweden. They were able to find fermented fish. Think about that. Archaeologists are able to find 10,000-year-old fish, but they can't find enormous gold and silver buildings? (To say nothing of the ziff.) A civilisation capable of producing this would have left mountains of evidence, but no one can find anything. And Joseph Smith practically gave them the address of the Guatemalan neighbourhood it all took place in! Once again: fictional people don't leave traces.
Mosiah 11:20 And it came to pass that there was a man among them whose name was Abinadi; and he went forth among them, and began to prophesy, saying: Behold, thus saith the Lord, and thus hath he commanded me, saying, Go forth, and say unto this people, thus saith the Lord — Wo be unto this people, for I have seen their abominations, and their wickedness, and their whoredoms; and except they repent I will visit them in mine anger.
After talking some trash, Abinadi gets away.
Mosiah 11:26 Now it came to pass that when Abinadi had spoken these words unto them they were wroth with him, and sought to take away his life; but the Lord delivered him out of their hands.
But two years later, he comes back in disguise.
Mosiah 12:1 And it came to pass that after the space of two years that Abinadi came among them in disguise, that they knew him not, and began to prophesy among them, saying: Thus has the Lord commanded me, saying — Abinadi…,
Well, you just blew your cover there, didn't you? I mean, all you had to do was not say your damn name.
I don't care how many people have pointed this out — it never gets any less hilarious.
Mosiah 12:1 …go and prophesy unto this my people, for they have hardened their hearts against my words; they have repented not of their evil doings; therefore, I will visit them in my anger, yea, in my fierce anger will I visit them in their iniquities and abominations.
…
12:3 And it shall come to pass that the life of king Noah shall be valued even as a garment in a hot furnace; for he shall know that I am the Lord.
12:4 And it shall come to pass that I will smite this my people with sore afflictions, yea, with famine and with pestilence; and I will cause that they shall howl all the day long.
12:5 Yea, and I will cause that they shall have burdens lashed upon their backs; and they shall be driven before like a dumb ass.
Let's just take a second and consider that the god of the Book of Mormon will kill people for not doing what he wants. Again, it seems that we have a god who kills people to get his way. Good old Jehovah.
Ask the class:
How does this relate to free agency?
Mormons (and theists) often argue that God can't prevent people from doing evil things, because that would curtail their agency.
If agency is so important, why does God then kill people for exercising it?
How plausible is God's punishment for the wicked, in a world where people routinely commit evil acts?
Abinadi is captured and hauled up before the king and his priests. Obviously the first thing they would do is… grill him about Old Testament scriptures!
(Sorry; I didn't mean to say grill him. Poor choice of words. #toosoon)
Mosiah 12:20 And it came to pass that one of them said unto him: What meaneth the words which are written, and which have been taught by our fathers, saying:
12:21 How beautiful upon the mountains are the feet of him that bringeth good tidings; that publisheth peace; that bringeth good tidings of good; that publisheth salvation; that saith unto Zion, Thy God reigneth;
There follows quite a discussion of feet. But the striking thing is that the discussion centres around a passage from Isaiah 53, which — you guessed it — wouldn't have been available to the Nephites. It was written by Deutero-Isaiah, some hundred years after Lehi supposedly left Jerusalem.
Sadly, fictional Abinadi is put to death.
Mosiah 17:1 And now it came to pass that when Abinadi had finished these sayings, that the king commanded that the priests should take him and cause that he should be put to death.
17:2 But there was one among them whose name was Alma, he also being a descendant of Nephi. And he was a young man, and he believed the words which Abinadi had spoken, for he knew concerning the iniquity which Abinadi has testified against them; therefore he began to plead with the king that he would not be angry with Abinadi, but suffer that he might depart in peace.
17:4 But he fled from before them and hid himself that they found him not. And he being concealed for many days did write all the words which Abinadi had spoken.
17:5 And it came to pass that the king caused that his guards should surround Abinadi and take him; and they bound him and cast him into prison.
…
17:13 And it came to pass that they took him and bound him, and scourged his skin with faggots, yea, even unto death.
17:14 And now when the flames began to scorch him, he cried unto them, saying:
17:15 Behold, even as ye have done unto me, so shall it come to pass that thy seed shall cause that many shall suffer the pains that I do suffer, even the pains of death by fire; and this because they believe in the salvation of the Lord their God.
…
17:20 And now, when Abinadi had said these words, he fell, having suffered death by fire; yea, having been put to death because he would not deny the commandments of God, having sealed the truth of his words by his death.
We'll see more about that Alma later.
Just to close out our discussion of Abinadi's story: people make a big deal out of dying for their beliefs. It's considered to be some kind of final statement that verifies their view. But I don't think dying for a belief is worth much if your beliefs are nonsense. To me, that seems more like a fatal case of mental inflexibility. I respect someone who changes their beliefs in the face of evidence a hell of a lot more.
Main ideas for this lesson
Who is the Lord?
When Abinadi escapes the first time, he leaves King Noah with a lingering question.
Mosiah 11:27 Now when king Noah had heard of the words which Abinadi had spoken unto the people, he was also wroth; and he said: Who is Abinadi, that I and my people should be judged of him, or who is the Lord, that shall bring upon my people such great affliction?
That's supposed to be a horrifying question: "Who is the Lord?" Why would I worship him? What right does he have to tell me how to live?
You're just not supposed to ask those things. But really, if someone is demanding your worship, then asking who he is is a perfectly reasonable question!
If I came to you and told you that you ought to worship Burunfa, you'd be perfectly within your rights to ask who that is. As it turns out, Burunfa is a god that my six-year-old son invented. He has the form of a dog, and he pooped out the universe. If I told you that this was an insignificant detail, and you should worship him without knowing any of that — well, you might be justified in thinking that I was a bit embarrassed about those details, and I was trying to shut you down.
If I told you that you should worship Jehovah, but I didn't want you to know that he's a genocidal sexist homophobe, then I might not like it if you asked to know his true character, but that's a question you should ask all the same.
Prophets v apostates
There's something stirring about the story of Abinadi. It's one man, up against those in power. Like the painting by Arnold Friberg.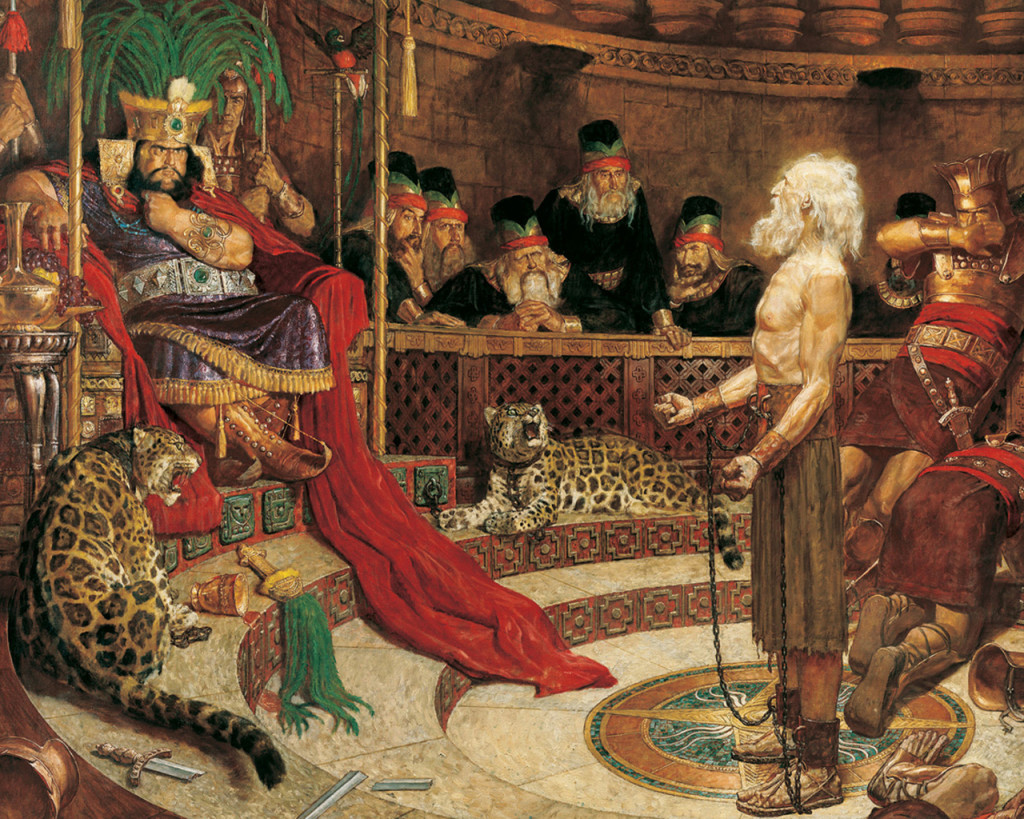 It's a very inspiring scene, even if it is a bit crowded in there. There's barely any space to put the leopards. No wonder they're testy.
That's how we picture prophets. Boldly testifying of the truth.
So why is it that when you take a modern LDS prophet, and you question them, they turn into mice?
Check out the well-known interview with Gordon Hinckley, in which he goes all funny when asked if he's a prophet.
Q: You are the president, prophet, seer and revelator of the Mormon Church?
A: I am so sustained, yes.
"I am so sustained"?
Why not "Yes"?
Essentially he's saying, "That's what they say." Yes, but what do you say? Now's your chance to testify of your power. "That is what I am, and the world should be paying attention because I am the Lord's mouthpiece." But instead we get this funny little dance.
Hinckley's not the only one who's done this. Have a look at this transcript of a 1904 congressional hearing involving the president of the church, Joseph F. Smith.
Mr. TAYLER. What official position do you now hold in the church?
Mr. SMITH. I am now the president of the church.
Mr. TAYLER. Is there any other description of your title than mere president?
Mr. SMITH. No, sir; not that I know of.
Mr. TAYLER. Are you prophet, seer, and revelator?
Mr. SMITH. I am so sustained and upheld by my people.
Mr. TAYLER. Do you get that title by reason of being president or by reason of having been an apostle?
Mr. SMITH. By reason of being president.
Mr. TAYLER. Are not all the apostles also prophets, seers, and revelators?
Mr. SMITH. They are sustained as such at our conferences.
Mr. TAYLER. They all have that title now, have they not?
Mr. SMITH. Well, they are so sustained at the conferences.
Mr. TAYLER. I want to know if they do not have that title now.
Mr. SMITH. I suppose if they are sustained they must have that title.
Mr. TAYLER. Are they sustained as such now?
Mr. SMITH. I have said so twice, sir.
Mr. TAYLER. Who were your predecessors in office as president of the church?
Mr. SMITH. My immediate predecessor was Lorenzo Snow.
Mr. TAYLER. And his predecessor?
Mr. SMITH. Wilford Woodruff.
Mr. TAYLER. And his?
Mr. SMITH. John Taylor.
Mr. TAYLER. Yes; go on back through the line.
Mr. SMITH. Brigham Young.
Mr. TAYLER. Yes.
Mr. SMITH. And Joseph Smith.
Mr. TAYLER. You are possessed of the same powers that they were possessed of?
Mr. SMITH. Yes, I am supposed to be possessed of the same authority that they were.
Mr. TAYLER. You believe yourself to be, do you not?
Mr. SMITH. I think I do believe so.
Mr. TAYLER. I do not know that there is any significance in your use of the word "think," Mr. Smith, but one hardly thinks that he has a belief. He either knows or does not know that he has a belief.
Mr. SMITH. I think I do.
Mr. TAYLER. According to the doctrine of your church, you have become the successor of your several predecessors as the head of the church?
Mr. SMITH. Yes, sir.
Mr. TAYLER. And are supposed to be endowed with all the powers that they were possessed of?
Mr. SMITH. That is my understanding.
It's infuriating! You want to grab him by his old-fashioned collar and say "Are you a prophet or aren't you‽" Why is he playing coy?
See more examples in this astounding thread.
Same deal when Tom Phillips tried to haul Thomas Monson into court for fraud. No way did Monson go to testify on his own behalf. Instead, he was represented by a very un-prophetic legal team (who couldn't get the name of the church right).
If there's a model for how modern prophets behave, it's not Abinadi. Abinadi represented himself in person, took the fight straight to his accusers, and made no apologies for what he was saying.
On the contrary; modern prophets use legal teams and PR flacks, instead of acting on their own behalf. They give comfy speeches in General Conferences for receptive audiences, but when it's time to answer the tough questions, they hide behind anonymous undated essays. They've (allegedly) funded apologetics groups to make up excuses for them. President Newsroom seems to have more power than the Q15 themselves. And all of this architecture is to protect the leadership from having to say anything they can later be pinned down on. It's all to maintain plausible deniability and to say as little as possible.
You know who speaks out boldly on their own behalf? Apostates.
In the last couple of years, members of the church — including Kate Kelly and John Dehlin (mp3 of John speaking at the Exmormon Foundation)— have been called into excommunication hearings for the sin of making themselves heard. Of all these, the one that seems most like Abinadi is Jeremy Runnels, creator of the CES Letter.
The proceedings of his excommunication hearing are a must read, and Zelph on the Shelf has all the info you need.
Jeremy: Cool, Thank you very much. Um, Okay, Uh, President Ivins can you read the rest of the apostasy definition? Like you read the definition, but there's more to it.
Ivins: I'd like you to make a statement.
Jeremy: Okay, you're not going to answer that?
Ivins: No, I'm not.
Jeremy: K, um, my experience with President Ivins unfortunately the past year and a half, is that he has never answered my questions. Not a single question. I've asked you three questions over and over and over and over and over and over and over 28 times and a specific question that I asked you is, What errors or mistakes in the CES letter or in the website is incorrect so that I can publically correct it? The second question I asked you is, if there are no errors or mistakes, why am I being punished for speaking and sharing the truth? Now the third question I asked you is, What question am I being punished for? And you have not answered a single one of them. Can I ask you why you are not answering them?
Ivins: You're gonna make a statement.
Jeremy: So you're not going to answer any questions this evening.
Ivins: I'm not. No. I've stated my evidence, you make a statement.
Jeremy: Okay. So do I have here, would you agree that I
Ivins: You make a statement Jeremy.
Jeremy: Why are you not answering any questions?
Ivins: This is not the time for that.
Jeremy: When is the time?
Ivins: We're not going to get into a debate. You're going to make a statement. Period.
Jeremy: I'm just going to make a statement. Why won't you answer my questions? I've asked and they're very reasonable questions that I've asked over and over. Like I don't know what, if there are errors or mistakes, I want to correct them. I don't understand why you are spiritually executing me over something, I don't know what's wrong. You claim I'm in opposition to the church. The church's essays are in public opposition to the church. Out of curiosity, by a show of hands, how many of you have read the church's essays? Nobody here? Okay, um. By the show of hands, how many of you have read the CES letter? Nobody here tonight has read the CES letter? Wow. And by the show of hands, has president Ivins prepared you tonight for this council by reading the CES letter carefully?
Ivins: Jeremy, make a statement.
When I read this, I picture someone fronting up against a bunch of silent priests. And the one in the centre, taking up the spot held by Abinadi, isn't the stake president. It's Jeremy.
Apostates act far more like Old Testament prophets than church leaders do. But this is the nature of calcified institutional religion.
Additional lesson ideas
Tense error
If you were sitting in the middle of the 19th century, and you're telling a big story about the past, you might be expected to make a mistake in tense once in a while — especially if the events you were describing happened before your time, but after the time of your characters.
Jospeh Smith (or whoever) has exactly this problem when writing for Abinadi.
Mosiah 16:6 And now if Christ had not come into the world, speaking of things to come as though they had already come, there could have been no redemption.
Whoops! Nice save there.
Seriously, though, what do you do when you're talking about a counterfactual hypothetical for something that hasn't happened yet, but that you're sure will happen eventually? English isn't really set up for this. Clearly, this is a linguistic situation crying out for a solution.
Well, as a linguist, I can help. Ladies and gentlemen, the expectant future pluperfect.
And now if Christ will not be to have come into the world
You're welcome. But the fraudulent prophet stuff — I can't really help with that.