"A Sure Foundation"
Helaman 1–5
LDS manual: here
Purpose
To help readers build on a solid foundation of science
Reading
Having escaped the book of Alma, we're spiralling into the book of Helaman. More wars. More armies. So many armies that fought and died without leaving any physical traces.
Helaman 1:14 And it came to pass in the forty and first year of the reign of the judges, that the Lamanites had gathered together an innumerable army of men, and armed them with swords, and with cimeters and with bows, and with arrows, and with head-plates, and with breastplates, and with all manner of shields of every kind.
This wasn't just an army of hundreds of thousands of men. This army was "innumerable". Apparently an infinite number of people were armed with swords and shields and armour, and no one can find any traces of them.
Meanwhile — oh, look — another Viking sword just last week.
A group of Icelandic goose hunters got more than they bargained for during a recent outing – they didn't catch a single bird, but stumbled upon a Viking sword thought to be more than 1,000 years old.

The five men were in Skaftarhreppur in southern Iceland when they found the sword, which they think may have washed up during a recent flood, the Visir news website reports….

The agency's director, Kristin Huld Sigurdardottir, says only 20 swords of this age have been discovered in Iceland before, making it a significant find. It didn't take much effort on the hunters' part, though. "It was just lying there, waiting to be picked up – it was obvious and just lying there on the ground," one of them, Runar Stanley Sighvatsson, tells Iceland Monitor.
Again, fictional people don't leave archaeological traces.
Pride
There's another warning against pride.
Helaman 3:33 And in the fifty and first year of the reign of the judges there was peace also, save it were the pride which began to enter into the church — not into the church of God, but into the hearts of the people who professed to belong to the church of God —
3:34 And they were lifted up in pride, even to the persecution of many of their brethren. Now this was a great evil, which did cause the more humble part of the people to suffer great persecutions, and to wade through much affliction.
Ask: Think of a time when you felt proud. When you felt this way, did you want to persecute anyone?
Probably not, if you felt proud of yourself or of something you did. Nationalism or insecurity have that effect, but not pride.
Pride is forbidden, not because it makes you persecute people, but because in a system where you must always be subordinate, it's not okay to feel good about yourself or anything you do.
I think the Book of Mormon was written by someone who didn't understand how feelings work.
Main ideas for this lesson
What is a sure foundation?
Latter-day Saints promote the idea that their ideology is built on a firm foundation. They even sing a rousing hymn called "How Firm a Foundation". Every kid in Nursery knows that song about the wise man who built his house upon a rock. And there are scriptures like this one:
Helaman 5:12 And now, my sons, remember, remember that it is upon the rock of our Redeemer, who is Christ, the Son of God, that ye must build your foundation; that when the devil shall send forth his mighty winds, yea, his shafts in the whirlwind, yea, when all his hail and his mighty storm shall beat upon you, it shall have no power over you to drag you down to the gulf of misery and endless wo, because of the rock upon which ye are built, which is a sure foundation, a foundation whereon if men build they cannot fall.
And the LDS Gospel Doctrine Manual says this:
After the hymn or song, explain that today's lesson shows the difference between people who build on weak foundations, such as people who place their trust in wealth or physical strength, and people who build their foundations on "the rock of [their] Redeemer, . . . which is a sure foundation" (Helaman 5:12).
I'm led to think, however, that this emphasis on having a strong foundation is simply wishful thinking, or trying to make it so by repeating it over and over.
If the LDS Church is true, then
it was brought about by a known con-man who had a thing for underage girls
its foundational document is plagued with anachronisms, and has no evidence to support it
it has prophets, seers, and revelators who avoid revealing anything, except when it comes to anti-LGBT policy
it worships a god who could demonstrate his existence unambiguiously but doesn't, and also worships his son, whose evidentiary basis is flimsy
it requires a small army of apologists and thinkers to make up explanations for why we don't see what we expect to see
it encourages its members not to engage with people or materials that could disprove its claims
it teaches its members that the strongest evidence for its truthfulness is emotional reasoning, one of the worst kinds of evidence
it exists side-by-side with similar churches, but is much less successful at building and maintaining its population, even though it uses similar methods
Ask: Does this seem like a firm foundation?
Ask: What would be a better foundation to build on?
My answer is science. We have the combined knowledge of millennia, and the methods and techniques to get more. Occasionally we find that the things we've learned are wrong or incomplete, but we can discard those things without harming the whole structure, because we understand that they have a human origin. At any given point in time, we have the best repository of knowledge that humanity is capable of, and we're always updating it.
Read this poem by the Digital Cuttlefish.
Two Books
There was a man who had a book
Of Things Which He Believed;
He followed it religiously—
He would not be deceived.

The story in its pages was
The Truth that he adored—
The world outside its ancient script,
He faithfully ignored.

When someone found a falsehood
Or a small mistake inside it
(Or even some tremendous flaw)
He eagerly denied it.

The Truth was there inside his book
And never found outside
If something contradicted it
Why then, that something lied

And when he met another man
Who had another book,
He fell not to temptation—why,
He didn't even look.

And, surely, there are other men
With other books in hand
Who walk, with views obstructed,
Here and there across the land

****

There was a man who had a book
(I find this quite exciting)
Who looked upon a tangled bank
And then… he started writing.

He wrote about the things he saw
And what he saw them do
And when he found mistakes he'd made
He wrote about them, too

He shared his book with other men
And women that he met—
They found the catch is bigger, when
You cast a wider net.

They shared their observations
So that everyone could read;
They worked as a community,
The better to succeed.

They found they saw much further,
And discovered so much more
When they stood upon the shoulders
Of the ones who'd gone before

It's a book that keeps evolving,
Always growing, as we learn.
Many people help to write it:
Would you like to take a turn?
Obsession with secret societies
The Book of Mormon reflects the conditions of its time. At the time, secret societies were all the rage. The Masons, the Druids, and even a group called the Society of Flagellants! And of course, the Illuminati.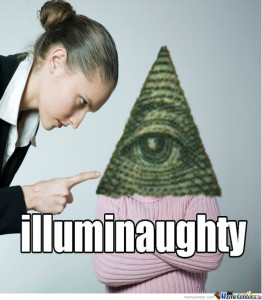 By the 1830s, frontier America was reacting with alarm to these secret societies. The Anti-Masonic Party formed in 1828, with a view to stopping these supposedly subversive elements, and combatting the danger they represented.
And predictably, the Book of Mormon laments the secret societies — here, secret combinations — that bring down the Nephites.
Helaman 1:11 And he went unto those that sent him, and they all entered into a covenant, yea, swearing by their everlasting Maker, that they would tell no man that Kishkumen had murdered Pahoran.

Helaman 2:2 And it came to pass that Helaman, who was the son of Helaman, was appointed to fill the judgment-seat, by the voice of the people.
2:3 But behold, Kishkumen, who had murdered Pahoran, did lay wait to destroy Helaman also; and he was upheld by his band, who had entered into a covenant that no one should know his wickedness.
2:4 For there was one Gadianton, who was exceedingly expert in many words, and also in his craft, to carry on the secret work of murder and of robbery; therefore he became the leader of the band of Kishkumen.
Did anyone notice the "flaxen cord", back in 2 Nephi?
2 Nephi 26:22 And there are also secret combinations, even as in times of old, according to the combinations of the devil, for he is the founder of all these things; yea, the founder of murder, and works of darkness; yea, and he leadeth them by the neck with a flaxen cord, until he bindeth them with his strong cords forever.
Flaxen cord? That's a reference to a Masonic symbol known as the "cable tow".
The Cable Tow is a symbol of the First Degree and represents the candidates bond to his guide. In some esoteric circles it represents the umbilical cord.
The Masonic Library elaborates.
The word tow has another significance, in addition to pulling or dragging, it also means the fiber of flax, or hemp, or jute. A cable might be made of plaited wire, or of metal links, or of manmade fibers, but the combination "cable-tow" which seems to be of purely Masonic usage, implies almost certainly the natural fiber from which the rope is to be made.
In other words, the Book of Mormon perpetuates the anti-Masonic feeling that was current at the time, by comparing one of Freemasonry's symbols with satanic enslavement.
Remember, Masonry doesn't go back to Solomon. It's a recent thing. It goes back no farther than the 1500s. So this really is a tip-off to the Book of Mormon's recent origins.
What's really weird (and hypocritical) is how much like a secret society Mormonism became. It had obscure rituals (cribbed from Freemasonry, btw), a tradition of quietly embedding itself in politics, and secret oaths and codewords. They keep their finances pretty secret, too. Check out this post from Redditor curious_mormon for the full story.
Remember
This Book of Mormon reading places a great deal of emphasis on remembering.
Helaman 5:4 And it came to pass that Nephi had become weary because of their iniquity; and he yielded up the judgment-seat, and took it upon him to preach the word of God all the remainder of his days, and his brother Lehi also, all the remainder of his days;
5:5 For they remembered the words which their father Helaman spake unto them. And these are the words which he spake:
5:6 Behold, my sons, I desire that ye should remember to keep the commandments of God; and I would that ye should declare unto the people these words. Behold, I have given unto you the names of our first parents who came out of the land of Jerusalem; and this I have done that when you remember your names ye may remember them; and when ye remember them ye may remember their works; and when ye remember their works ye may know how that it is said, and also written, that they were good.
So does the LDS Gospel Doctrine manual.
In the Book of Mormon there are over 240 instances of the word remember or forms of the word (such as remembered, remembrance, or forget not). Fifteen of these instances are in Helaman 5. What must we remember? (See Helaman 5:9; see also Mosiah 3:17.) Why is it important to remember?
Mormons have the idea that if people leave the church, it's because they've somehow forgotten about how wonderful it is. They've simply forgotten about testimony-building experiences.
Take it from Dieter Uchtdorf.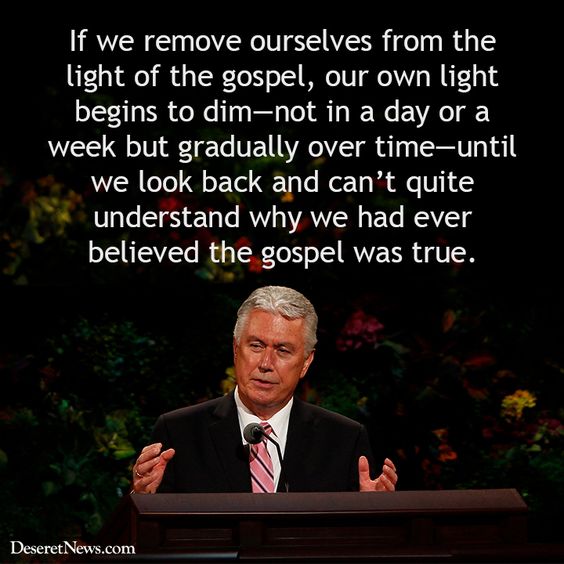 What he's actually describing is not forgetting. It's a normal reaction when you stop believing that something's true, which you'd carefully conned yourself into believing for years. When you can finally see things without the Mormon filter, you sort of shake your head in amazement at all the crazy things you'd believed.
One day recently, a pair of Mormon missionaries came over for dinner. I like to have them over because they're usually quite nice. Also — let's face it — I also feel kind of bad for them, because I remember what it was like. And finally, I want them to see that you can leave the church and live a good, ethical life as an unbeliever, and apostasy doesn't have to spiral into drug abuse and cannibalism. (Those are optional.)
So on this particular night, in our after-dinner discussion, the younger of the two thought he'd explain why I left. I wrote it down afterwards because it was so perfect. He said,
I think what happened is:
you stopped praying
you stopped reading the scriptures
and over the course of time, you stopped going to church
and then you stopped believing it was true.
It was amazing. Four complete misses! I was pleased to let him know that he was quite wrong on every point. If anything, he had it in reverse order in my case.
When you're going through deconversion, and you recognise that you've been utterly, terribly wrong on everything, and you're wondering what it all means, and one of those things is the loss of your social group and your status in a community and your mental model of the entire universe — not to mention all the time and money you've invested — you don't just drift away. In my case, I prayed harder! I read the scriptures with a new intensity. I went to church for a good solid six months after I no longer believed. (That's what finally finished my testimony off.)
So when this young elder told me what he thought my reasons were… I was secretly glad. Why glad? Here's why.
Mormons simply do not understand why people leave, or what deconversion is like. They could ask someone who's been through it, but they never do. That might open up an unwanted conversation — and besides, they know already! It's because we forgot.
Except we don't just forget. I could tell you the details of all my biggest and most convincing spiritual experiences. I remember everything. I just don't think they mean what I used to think they mean. I've reordered my evidentiary model.
But Mormons don't get this. And because they don't understand why people leave, they won't be able to stop it. The die-off will continue. And that makes me very glad, even though I know Mormons won't be able to help someone who's hurting. That's where I come in. And not just me — a whole lot of other ex-Mormons who have formed supportive communities of disbelief.
Sadly, there's another consequence of Mormons not getting it when it comes to apostasy. They blame themselves for their church's failures. Here's a scripture that lets them do that.
Helaman 4:22 And that they had altered and trampled under their feet the laws of Mosiah, or that which the Lord commanded him to give unto the people; and they saw that their laws had become corrupted, and that they had become a wicked people, insomuch that they were wicked even like unto the Lamanites.
4:23 And because of their iniquity the church had begun to dwindle; and they began to disbelieve in the spirit of prophecy and in the spirit of revelation; and the judgments of God did stare them in the face.
4:24 And they saw that they had become weak, like unto their brethren, the Lamanites, and that the Spirit of the Lord did no more preserve them; yea, it had withdrawn from them because the Spirit of the Lord doth not dwell in unholy temples —
That's right; when you're bad, you get abandoned by the Holy Spook, your supposed source of spiritual strength. And then the church collapses. But it's not because of the lack of evidence, the sinister leaders, or the lack of tangible benefit. It's you.
I really hope that church members today aren't blaming themselves for the failure of the church and the current on-going final apostasy. But this scripture might have that effect.
Additional lesson ideas
Cement
I always thought cement was an anachronism in the Book of Mormon.
Helaman 3:3 And it came to pass in the forty and sixth, yea, there was much contention and many dissensions; in the which there were an exceedingly great many who departed out of the land of Zarahemla, and went forth unto the land northward to inherit the land.
…
3:7 And there being but little timber upon the face of the land, nevertheless the people who went forth became exceedingly expert in the working of cement; therefore they did build houses of cement, in the which they did dwell.
3:8 And it came to pass that they did multiply and spread, and did go forth from the land southward to the land northward, and did spread insomuch that they began to cover the face of the whole earth, from the sea south to the sea north, from the sea west to the sea east.
3:9 And the people who were in the land northward did dwell in tents, and in houses of cement, and they did suffer whatsoever tree should spring up upon the face of the land that it should grow up, that in time they might have timber to build their houses, yea, their cities, and their temples, and their synagogues, and their sanctuaries, and all manner of their buildings.
3:10 And it came to pass as timber was exceedingly scarce in the land northward, they did send forth much by the way of shipping.
3:11 And thus they did enable the people in the land northward that they might build many cities, both of wood and of cement.
…
3:14 But behold, a hundredth part of the proceedings of this people, yea, the account of the Lamanites and of the Nephites, and their wars, and contentions, and dissensions, and their preaching, and their prophecies, and their shipping and their building of ships, and their building of temples, and of synagogues and their sanctuaries, and their righteousness, and their wickedness, and their murders, and their robbings, and their plundering, and all manner of abominations and whoredoms, cannot be contained in this work.
But it looks like I was wrong. Cement — or something like cement — has been found in Mesoamerica.
They most often utilized limestone, which remained pliable enough to be worked with stone tools while being quarried, and only hardened once when removed from its bed. In addition to the structural use of limestone, much of their mortar consisted of crushed, burnt, and mixed limestone that mimicked the properties of cement and was used just as widely for stucco finishing as it was for mortar.
Not actual houses of cement, which the Book of Mormon says there were apparently so many as to cover "the face of the whole earth, from the sea south to the sea north, from the sea west to the sea east". Ideally you'd want to find the houses, but we do see something like cement, so the Book of Mormon gets this one on a technicality.
I think this is the real problem with the Book of Mormon. If so many people were building cement buildings, ships, and temples in such abundance, then we should be able to find them. Shoot — we should be able to see them from Google Earth. But we don't. And instead, by way of defence, apologists say, "Well, something like cement has been found in a few places."
The other problem is that things that we know existed don't appear in the Book of Mormon. It would have easy to write,
Behold, they did construct walls hewn of stone with such exactness that a hair would not fit between the stones.
That's something we do observe, but not in the Book of Mormon.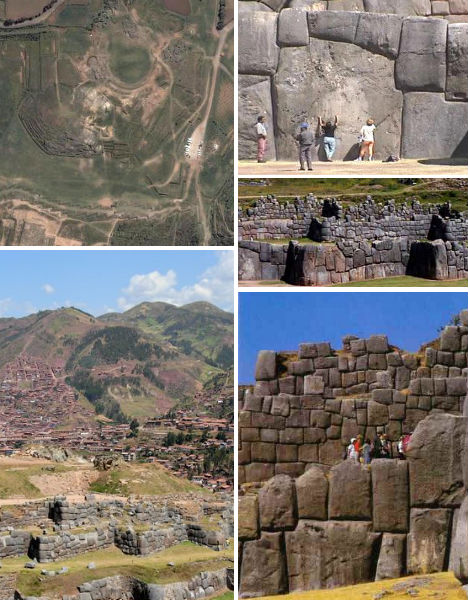 If it's true, it should be obviously more true. But it's not. That's God, you know. Always operating on the margins of credibility.