"I Cannot Go Beyond the Word of the Lord"
Numbers 22–24; 31:1–16
LDS manual: here
Reading
Let's start with a bit of review, just to see where we are in the narrative.
God's been on a particularly blood-thirsty tear lately. He's already commanded the slaughter of the Amorites, kicking off the waves of genocide that will typify this part of the Old Testament. But he hasn't just caused violence against outsiders; he's also killed the men of Korah by swallowing them up in a great hole, and then killed those who questioned it.
Let's just pause for a moment, and look at the purpose for this lesson in the real manual:
Purpose: To encourage class members to submit to God's will without hesitation.
Ponder that for a moment. "Submit to God's will without hesitation." Perhaps because of what God's going to do to you if you hesitate to submit.
I can't help but think there's some Stockholm syndrome at work here on the part of believers. What else could be going on in your mind when you worship a murderous jerk who's got a hair-trigger and a reputation to protect? You hear stories in church every week about how he kills people who get in his way, and you know that unbelievers are going to cop it, but you just try to make sure it's not you. You'll be happy eternally in heaven, while others are going to be suffering, but it's good and just that they'll be suffering, and God wouldn't make that happen unless it were the right thing. There's got to be some numbness going on in the part of your brain that does empathy. There's a brokenness.
Add in the fact that "submitting to God's will" translates into "submitting to the will of leaders" and you've got a potentially toxic formula. Psychologically, it would be a lot healthier to tell this god to fuck off. Have nothing to do with him and his works of murder.
Ch. 22: Balaam was a prophet, but he was copping some flak from his boss, the Moabite king Balak. Balak had gotten the news about the Ammonite genocide, and wanted Balaam to curse Israel. But Elohim appeared to Balaam, and put a little heat on him. Balaam was no fool and saw which way his bread was buttered; He decided to bless them instead.
Now to the famous story: In the morning, Balaam saddles his ass (LOL semantic shift) and heads off to see the king. Standing in the way is an angel that only donkeys can see, apparently. Balaam thinks the donkey's just being an ass. After three smotes, the donkey's had enough, and complains to Balaam using human speech, asking why it's getting beaten. Balaam takes this with equanimity, and has a bit of discourse with the animal.
This is, of course, not the first inter-species communication in the Bible; that would be the talking snake in the Garden.
Chs. 23 & 24: Balaam refuses to curse Israel, even when the king offers him a houseful of dosh. Instead, he predicts a win by Israel, in bloodthirsty terms:
23:24 Behold, the people shall rise up as a great lion, and lift up himself as a young lion: he shall not lie down until he eat of the prey, and drink the blood of the slain.
And:
24:8 God brought him forth out of Egypt; he hath as it were the strength of an unicorn: he shall eat up the nations his enemies, and shall break their bones, and pierce them through with his arrows.
Ch. 25: God's brand is threatened, so it's time for more murders. He plans a plague…
25:3 And Israel joined himself unto Baalpeor: and the anger of the LORD was kindled against Israel.
25:4 And the LORD said unto Moses, Take all the heads of the people, and hang them up before the LORD against the sun, that the fierce anger of the LORD may be turned away from Israel.
25:5 And Moses said unto the judges of Israel, Slay ye every one his men that were joined unto Baalpeor.
But then someone puts a spear through a couple who are (one supposes) having sex. God thinks that's pretty cool, so he calls off the plague.
25:6 And, behold, one of the children of Israel came and brought unto his brethren a Midianitish woman in the sight of Moses, and in the sight of all the congregation of the children of Israel, who were weeping before the door of the tabernacle of the congregation.
25:7 And when Phinehas, the son of Eleazar, the son of Aaron the priest, saw it, he rose up from among the congregation, and took a javelin in his hand;
25:8 And he went after the man of Israel into the tent, and thrust both of them through, the man of Israel, and the woman through her belly. So the plague was stayed from the children of Israel.
The guy who committed the murders gets a special treat: the Priesthood! (Gee, all I had to do was turn twelve. It's like God gives it to everyone these days.)
Didn't this happen in one of the Friday the 13th films? I forget which one. No, wait, it was "Bay of Blood". If you don't like horror, don't watch this link, but remember: it's fine to throw a Bible with the exact same scene to children because it makes them more moral.
Brother Brigham felt that such a course would in some cases have salubrious effects.

Possible irksome question for those trapped in a real Gospel Doctrine class: Ask if this is a justification of body piercing.
Chs. 26, 27, 28, 29: God is going to show Moses all the land he's giving to the Israelites, and then Moses will die. But not before some more burning lamb! Mmm… smell that sweet savour.
28:6 It is a continual burnt offering, which was ordained in mount Sinai for a sweet savour, a sacrifice made by fire unto the LORD.
Ch. 30: Any vow a woman makes has to be okayed by her husband or her father.
Ch. 31: The Midianite massacre: see below.
Chs. 32 and 33: Aaron dies. God tells Moses that they have to conquer people and destroy their religions, or else…
33:55 But if ye will not drive out the inhabitants of the land from before you; then it shall come to pass, that those which ye let remain of them shall be pricks in your eyes, and thorns in your sides, and shall vex you in the land wherein ye dwell.
33:56 Moreover it shall come to pass, that I shall do unto you, as I thought to do unto them.
Ask: If you were the supreme being of the universe, would you be a little more secure in your supremacy? Wouldn't you think you could ease up on the brand dominance? After all, since you knew everything, you'd know that other gods were non-existent. Yet, Elohim doesn't seem to know this. He acts like he's the number-two dog. It seems likely, then, that at this point that's what he was.
Main points for this lesson
Balaam, unlike modern LDS prophets, rejected the profit
You can say what you like about Balaam's state of mind, talking to donkeys and all, but what you have to admire is his refusal to say what the king wants. Balak offers him loads of dough if he'll curse Israel, but he won't.
Compare this to modern so-called prophets, who are willing to tone down unpleasant doctrines if it keeps people coming in. In 1988, when church leaders were mulling about changing some of the stranger and more off-putting parts of the endowment session, they sent around a survey to thousands of Latter-day Saints.
Discussion at Mormon Curtain | Exmormon | LDS-Mormon | MormonThink
We don't have access to the results of the survey, but we do know that the penalties — in which temple attendees would mime their own murder in various grisly ways — disappeared in the 1990 revision.
We've seen the same pattern more recently: tone down the anti-gay rhetoric when it doesn't fly, adapt doctrines about race that are distasteful, and do whatever it takes to keep the bottom line from being affected.
So Balaam certainly had more integrity than prophets today. Too bad he doesn't survive past chapter 31.
The Midianite genocide
God commands the wholesale slaughter of the Midianites. First, they kill the men — including boys.
31:7 And they warred against the Midianites, as the LORD commanded Moses; and they slew all the males.
They take captives, burn the cities, and take the booty.
31:9 And the children of Israel took all the women of Midian captives, and their little ones, and took the spoil of all their cattle, and all their flocks, and all their goods.
31:10 And they burnt all their cities wherein they dwelt, and all their goodly castles, with fire.
31:11 And they took all the spoil, and all the prey, both of men and of beasts.
But Moses is pissed, because they didn't kill the women.
31:14 And Moses was wroth with the officers of the host, with the captains over thousands, and captains over hundreds, which came from the battle.
31:15 And Moses said unto them, Have ye saved all the women alive?
31:16 Behold, these caused the children of Israel, through the counsel of Balaam, to commit trespass against the LORD in the matter of Peor, and there was a plague among the congregation of the LORD.
So they kill all the male children, and all the non-virgin women.
31:17 Now therefore kill every male among the little ones, and kill every woman that hath known man by lying with him.
The female children become sexual slaves, or at best, victims of forced marriages.
31:18 But all the women children, that have not known a man by lying with him, keep alive for yourselves.
Verse 34 counts 32,000 women.
For as long as I've been an atheist, people have asked me where I get my morals from — even wondered how someone could be moral without religion. And religion is often recommended as a way of instilling 'good moral values'.
This one lesson, all by itself, obliterates any claim that the Christian god is a moral being. Not only is he not the source of all morality, he's not even a moral being. There are not many moral decisions that are easier to make than "Is genocide okay?" The Bible gets that wrong. And if it gets such an easy question wrong, how is it going to do on the hard ones?
Naturally, Christians have many explanations for why Old Testament genocide is actually fine. Christians of many denominations have cheerfully explained to me that God commanded it, and that means it's just fine by them. Here's what happened when I brought the issue up with a couple of very nice Jehovah's Witnesses.
Here are some of the arguments apologists offer for this repugnant deity:
The Midianites were bad people! They sacrificed their children to Molech.
There's some disagreement as to the extent and the origin of child sacrifice in Canaan, but it's hardly a remedy for child sacrifice if one kills every available male child. I find it highly likely that just as Bible writers demonised the Moabites as the result of incest, they demonised the Canaanites as child murderers. This allows a community to externalise their enemies as subhuman 'others', at which point you can do as you like to them.
'Destroy' doesn't mean 'entirely eradicate'.
This is a case of redefining words, a favourite apologetics tactic. If the Israelites didn't wipe out tribes person for person, it was contrary to the commands of Jehovah, and that's the real problem here.
It was better than other cultures at the time.
This is an odd argument. Is God a transcendent being, outside of space and time, presenting an unambiguous and absolute moral code? Or is he not? This line of reasoning reminds me that sometimes if you push a religious absolutist, they inexplicably turn into a moral relativist. They have to. There's no other way to justify this slaughter.
God gets to judge. Everything he commands is right, and he made us, so he gets to decide what to do with us. I'm just going to keep believing, and trust that he knows all.
This is chicken shit. It's moral abnegation. If someone takes this view, they're trying to feel okay about something that strikes a normal person as deeply wrong. They are in the process of removing the part of themselves that feels compassion, and replacing it with submission. To say, as in the title of this lesson, "I cannot go beyond the word of the Lord" is really a form of moral cowardice.
I had an experience when preparing for this Godless Doctrine lesson.
I've always been kind of haunted by a sense that I wouldn't have handled moral controversies in the church very well. I've never had the chance to be tested in a big way though; I was too young for the 'Race and the Priesthood' issue, and I was out of the church by Prop 8. So would I have passed the test? Or would I have sung myself to sleep, convinced that the church was right, no matter what?
Well, when preparing for this lesson, I found something. I went through my old Sunday School notes on the computer, and found the file for this lesson when I taught it in Gospel Doctrine so long ago. And I noticed this sentence:
Does anyone else have a problem with the genocide besides me?
And then I remembered how I agonised over this issue as a Gospel Doctrine teacher. I really didn't have an answer for it, and it really bothered me. Usually I was good at coming up with rationales, but this one was so obviously wrong.
So this was the question I dropped right in the middle of the lesson.
Does anyone else have a problem with the genocide besides me?
It caused the class to shift uncomfortably in their uncomfortable seats. A few people volunteered that, yes, they did. Others offered weak explanations. One RM ventured that the winners write history, which I suppose is true in this case. In the lesson, I left it as unresolved.
So when I read that entry in my lesson plan, I felt relieved. I almost cried, in fact. No, I hadn't left the church over this issue, but it was a crack in my Mormonness. I knew the Bible was wrong on this issue, and in time I would find more things wrong. The religion had not dulled my sense of what a normal person would see as right. I felt like I was not 'utterly cast off'.
The other thing I noticed from my lesson notes is that we used to do a whole lesson on Leviticus, but it's been cut from the current manual. Obviously they didn't do any of the bits I talked about in the previous lesson.
Additional ideas for teaching
'Revelation' can come by petition
The 'Ordain Women' movement has been on my mind and in the news lately. Again this year, women asked to be admitted to the Priesthood Session of General Conference, and again they were turned away.
The response to 'Ordain Women' from many Mormon men has been a colossal 'harrumph!' Why, those women think they can counsel the Lord. They think that revelation comes through them, and not through the prophet. And so on.
I don't think Mormon women need the priesthood; they need atheism. But things would certainly be better for many Mormon women if they were taken seriously on an administrative level, on an equal footing in the priesthood.
So it was interesting to see this story where women petitioned Moses for property rights for daughters.
27:1 Then came the daughters of Zelophehad, the son of Hepher, the son of Gilead, the son of Machir, the son of Manasseh, of the families of Manasseh the son of Joseph: and these are the names of his daughters; Mahlah, Noah, and Hoglah, and Milcah, and Tirzah.
27:2 And they stood before Moses, and before Eleazar the priest, and before the princes and all the congregation, by the door of the tabernacle of the congregation, saying,
27:3 Our father died in the wilderness, and he was not in the company of them that gathered themselves together against the LORD in the company of Korah; but died in his own sin, and had no sons.
27:4 Why should the name of our father be done away from among his family, because he hath no son? Give unto us therefore a possession among the brethren of our father.
And God says "Oh, that's a good idea; I hadn't thought of that."
27:5 And Moses brought their cause before the LORD.
27:6 And the LORD spake unto Moses, saying,
27:7 The daughters of Zelophehad speak right: thou shalt surely give them a possession of an inheritance among their father's brethren; and thou shalt cause the inheritance of their father to pass unto them.
27:8 And thou shalt speak unto the children of Israel, saying, If a man die, and have no son, then ye shall cause his inheritance to pass unto his daughter.
Actually, Mormons should be able to think of lots of cases where a revelation has come because someone asked a question. This is one of the earlier cases that worked to the benefit of women.
Unfortunately, women are put back in their place in chapter 30, when God says that any vow they make has to be approved by their husband (or father).
Unicorn?
This is the first Bible verse where unicorns are mentioned — the first of nine times in the Bible. With nine mentions, this is something to deal with.
23:22 God brought them out of Egypt; he hath as it were the strength of an unicorn.
So did the biblical unicorn exist? Come on down to the Unicorn Museum and find out!
Oh sure, we could explain the biblical unicorn away by saying it's a fictional beast, like God or Satan.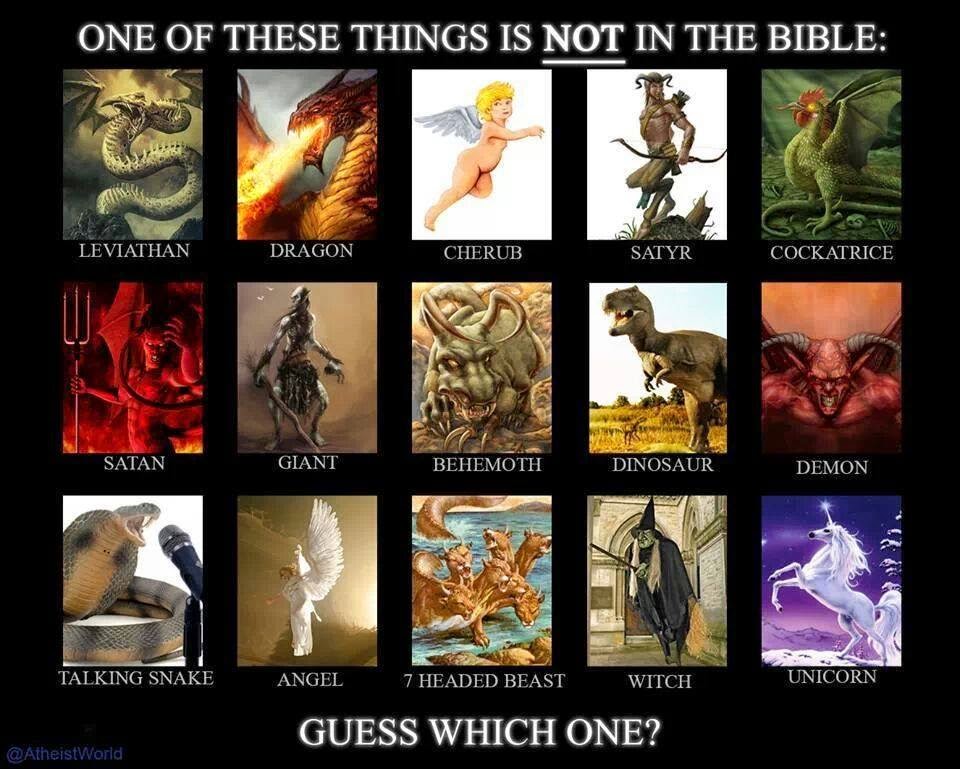 But the folks at Answers in Genesis think that since it's in the Bible, it's totes real.
The Bible describes unicorns skipping like calves (Psalm 29:6), traveling like bullocks, and bleeding when they die (Isaiah 34:7).
It might be extinct now:
The absence of a unicorn in the modern world should not cause us to doubt its past existence. (Think of the dodo bird. It does not exist today, but we do not doubt that it existed in the past.).
or it might have described a real animal.
The elasmotherium, an extinct giant rhinoceros, provides another possibility for the unicorn's identity. The elasmotherium's 33-inch-long skull has a huge bony protuberance on the frontal bone consistent with the support structure for a massive horn.
This post shows two of the biggest tricks that apologists use when confronted with something foolish in their scripture:
1) Appeal to ignorance: Just because you can't find a unicorn doesn't mean it's not real!
I suppose there might have been unicorns and they might have pooped Lucky Charms,
but with no evidence — no photos, no sightings, no bones, no scat — there's no reason to believe in them. The same thing goes for leprechauns, genies, or gods.

2) Redefine words until they mean what you want. A unicorn can be a rhinoceros, and a horse can be a tapir.
Isn't it nice to know that apologists are pretty much the same everywhere you go?