"Converted unto the Lord"
Alma 23–29
LDS manual: here
Purpose
To show the scriptural sanction for some of the hostile attitudes that Mormons have toward ex-members.
Reading
Last time, we saw that Ammon (etc.) converted a lot of former Lamanites. Having gotten a taste of the Jesus, they don't want to fight anymore. Which is contrary to a kind of creeping Christianism we're seeing in the US Armed Forces.
Whether Bibles are kept at registration desks or inside rooms may not seem all that big a deal. But the human stakes are higher in another religious-military row that erupted last month, when an atheist airman at a base in Nevada was denied the opportunity to re-enlist because he declined to say the words "so help me God". In an older air force regulation, it was laid down that those four words could be omitted on grounds of conscience; but this waiver was removed from a new rule issued last year—you either invoke the Deity or you cannot take up your responsibilities to the nation.

In Mr Weinstein's view, that change in the rules is a symptom of a new form of religious intolerance that has gained ground in the armed forces to the dismay of mainline Christians, among others. He calls the new religious mentality "dominionism"—a pejorative term for forms of Christianity that want to build religious principles into earthly power structures. One sceptical definition of "dominionism" describes it as "a theocratic view that…heterosexual Christian men are called by God to exercise dominion over secular society by taking control of political and cultural institutions."

Other signs of that mentality? An increasing number of cases where service personnel are bullied or denied promotion because they refuse to conform to the religious beliefs of their superiors.
And, rather worryingly, this:
Coded references to New Testament Bible passages about Jesus Christ are inscribed on high-powered rifle sights provided to the U.S. military by a Michigan company, an ABC News investigation has found.

The sights are used by U.S. troops in Iraq and Afghanistan and in the training of Iraqi and Afghan soldiers. The maker of the sights, Trijicon, has a $660 million multi-year contract to provide up to 800,000 sights to the Marine Corps, and additional contracts to provide sights to the U.S. Army.

U.S. military rules specifically prohibit the proselytizing of any religion in Iraq or Afghanistan and were drawn up in order to prevent criticism that the U.S. was embarked on a religious "Crusade" in its war against al Qaeda and Iraqi insurgents.

One of the citations on the gun sights, 2COR4:6, is an apparent reference to Second Corinthians 4:6 of the New Testament, which reads: "For God, who commanded the light to shine out of darkness, hath shined in our hearts, to give the light of the knowledge of the glory of God in the face of Jesus Christ."
I guess Jesus affects people differently.
Be that as it may, the group decided that they needed a name. And did they come up with a doozy.
Alma 23:16 And now it came to pass that the king and those who were converted were desirous that they might have a name, that thereby they might be distinguished from their brethren; therefore the king consulted with Aaron and many of their priests, concerning the name that they should take upon them, that they might be distinguished.
23:17 And it came to pass that they called their names Anti-Nephi-Lehies; and they were called by this name and were no more called Lamanites.
Remind me not to let them pick my band name, because it would probably suck. I was going for Sea of Dudes, but apparently it's taken. 🙁
Why would they be anti Nephi or Lehi? Well, there have been many explanations. Cue the gymnasts!
If anti is a transliteration, it might come from the EGYPTIAN relative marker nty (Coptic ente) meaning "which is," which can be nominalized as "that which is". Since the gentilic of the term is used in the plural, if it were pluralized as EGYPTIAN it should be ntyw. This would mean something like "those who are Nephi-Lehi".

If anti is a translation, the meaning could be "facing Nephi-Lehi," from the HEBREW word that means approximately "anti," (neged), i.e., "facing, opposite, etc." (HWN).

Hugh Nibley suggested to one of his classes that anti might come from Arabic inda which, like Greek anti, means "opposite". Since this root is not found in other Semitic languages, it may actually be a borrowing from Greek.
Aren't they creative? It's easy to make things up when there's no way you can be proven wrong.
Name aside, the most distinctive thing about them is that they decide never to fight again. Their king says:
Alma 24:12 Now, my best beloved brethren, since God hath taken away our stains, and our swords have become bright, then let us stain our swords no more with the blood of our brethren.
24:13 Behold, I say unto you, Nay, let us retain our swords that they be not stained with the blood of our brethren; for perhaps, if we should stain our swords again they can no more be washed bright through the blood of the Son of our great God, which shall be shed for the atonement of our sins.
…
24:17 And now it came to pass that when the king had made an end of these sayings, and all the people were assembled together, they took their swords, and all the weapons which were used for the shedding of man's blood, and they did bury them up deep in the earth.
That's convenient.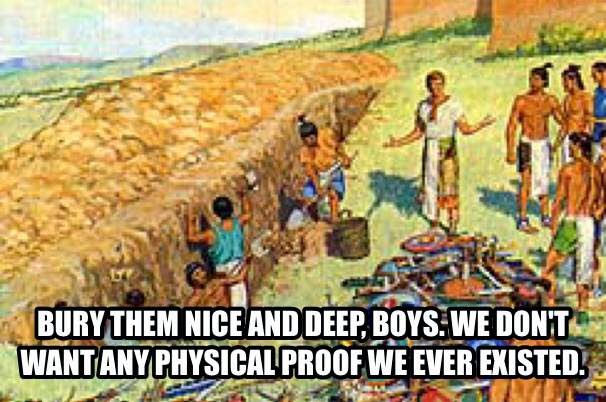 Alma 27:21 And it came to pass that the chief judge sent a proclamation throughout all the land, desiring the voice of the people concerning the admitting their brethren, who were the people of Anti-Nephi-Lehi.
27:22 And it came to pass that the voice of the people came, saying: behold, we will give up the land of Jershon, which is on the east by the sea, which joins the land Bountiful, which is on the south of the land Bountiful; and this land Jershon is the land which we will give unto our brethren for an inheritance.
27:23 And behold, we will set our armies between the land Jershon and the land Nephi, that we may protect our brethren in the land Jershon; and this we do for our brethren, on account of their fear to take up arms against their brethren lest they should commit sin; and this their great fear came because of their sore repentance which they had, on account of their many murders and their awful wickedness.
27:24 And now behold, this will we do unto our brethren, that they may inherit the land Jershon; and we will guard them from their enemies with our armies, on condition that they will give us a portion of their substance to assist us that we may maintain our armies.
This is actually interesting: there's some scriptural justification for Mormons to either be pacifists, or protect pacifists.
Patrick Mason, the Howard W. Hunter Chair of Mormon Studies and associate professor of religion at Claremont Graduate University, knows that Mormons are not pacifists, but he thinks we should be. Writing at Rational Faiths, he contends that "resort to violence" is incompatible with "worship of the Prince of Peace." Most interestingly, he claims that the Book of Mormon—full of warriors heroes like Mormon and Captain Moroni—is actually a pacifist text hiding underneath a thin veneer of failed militarism. Is it? Does the Book of Mormon teach that pacifism is always superior to defensive war?
…
Mason's central argument is that the apparent approval of defensive war in the Book of Mormon contradicts Christ's teachings. Mason stipulates that—if we are careful in our reading and analysis—we will see that the Book of Mormon text itself undermines its own superficial sanction of violence. After all, writes, Mason, "it's difficult to conceive of a text more poignantly testifying to the utter futility and folly of violence" than the Book of Mormon.
Religion is a shape-shifter. It teaches whatever believers want it to teach; all they have to do is cherry-pick the scriptures they like, and construct an apologetic to fill in the gaps. But it's sort of nice that some Latter-day Saints are taking this lesson from the Book of Mormon, when there are so many worse messages they could be getting.
A scene ensues. The attacking Lamanites descend on the ANLs, hack their way through a few of them, and then — WTF? — they recoil in confusion as their victims refuse to fight back.
Alma 24:20 And it came to pass that their brethren, the Lamanites, made preparations for war, and came up to the land of Nephi for the purpose of destroying the king, and to place another in his stead, and also of destroying the people of Anti-Nephi-Lehi out of the land.
24:21 Now when the people saw that they were coming against them they went out to meet them, and prostrated themselves before them to the earth, and began to call on the name of the Lord; and thus they were in this attitude when the Lamanites began to fall upon them, and began to slay them with the sword.
24:22 And thus without meeting any resistance, they did slay a thousand and five of them; and we know that they are blessed, for they have gone to dwell with their God.
I know religion is supposed to be comforting, but no, you don't know that.
And then the attackers have a change of heart. They join the ANLs, and make up the sudden deficit in their numbers.
Alma 24:23 Now when the Lamanites saw that their brethren would not flee from the sword, neither would they turn aside to the right hand or to the left, but that they would lie down and perish, and praised God even in the very act of perishing under the sword —
24:24 Now when the Lamanites saw this they did forbear from slaying them; and there were many whose hearts had swollen in them for those of their brethren who had fallen under the sword, for they repented of the things which they had done.
24:25 And it came to pass that they threw down their weapons of war, and they would not take them again, for they were stung for the murders which they had committed; and they came down even as their brethren, relying upon the mercies of those whose arms were lifted to slay them.
24:26 And it came to pass that the people of God were joined that day by more than the number who had been slain; and those who had been slain were righteous people, therefore we have no reason to doubt but what they were saved.
24:27 And there was not a wicked man slain among them; but there were more than a thousand brought to the knowledge of the truth; thus we see that the Lord worketh in many ways to the salvation of his people.
The writer is glad because more people have joined than were killed. I know this is fictional and everything, but damn — that's a really statistical view of things.
Main ideas for this lesson
Never really converted
In this reading, the Book of Mormon shows a really terrible attitude toward ex-Mormons.
Here's something I've been told at times: I left the church because I was "never really converted".
Alma 23:6 And as sure as the Lord liveth, so sure as many as believed, or as many as were brought to the knowledge of the truth, through the preaching of Ammon and his brethren, according to the spirit of revelation and of prophecy, and the power of God working miracles in them — yea, I say unto you, as the Lord liveth, as many of the Lamanites as believed in their preaching, and were converted unto the Lord, never did fall away.
Ask: Why do members need to believe that ex-Mormons were never really converted?
Answer: This comes from fear. It can be threatening for a Mormon to encounter someone who has left and doubtless now thinks that church is a collection of lies, fables, and foolishness. I know that, as a younger member, I might have felt that way to meet a former member, and I would probably have been horrified to learn that one day I would become one. It would have meant a forfeiture of family, money, time, and what I thought would be my eternal future.
In short, I might have tried to find any way I could to prevent myself from thinking that I could become "like that". And that can mean blaming the ex-member for a perceived lack of sincerity (which missionaries routinely do with investigators who "neg" them), or a perceived lack of integrity (you didn't "endure to the end"). When really, I finally recognised that it just wasn't true, and it was my sincerity and integrity that took me out of the church.
If you want a demonstration that Mormons really do believe these things about ex-members, look no further than the LDS Gospel Doctrine manual.
a. They "were converted unto the Lord" (Alma 23:6). Why is it essential that Jesus Christ be at the center of our conversion? For what other reasons might people be drawn to the Church? (Answers may include the personalities of missionaries, the influence of friends, or the appeal of social programs.) Why do these things alone fail to bring about true conversion?
I don't know what "true conversion" means. I think they just mean "lifelong membership", in which case any of those three things can get you there. I never hear a problem with those things when they get people into the font. In fact, I don't think I ever saw anyone get baptised on my mission simply because they read the Book of Mormon and thought it was true. Baptism was always accompanied by elder infatuation or social relationships. I doubt that it can ever happen otherwise. And the church knows this; otherwise they wouldn't stress friend referrals or co-teaching with the missionaries. It's got to be about embedding the convert into a social relationship so that leaving will be more costly.
Apostates are worse than non-members
Here the other nasty thing that Mormons teach: ex-members are worse off than non-members. Here's the scripture:
Alma 24:29 Now, among those who joined the people of the Lord, there were none who were Amalekites or Amulonites, or who were of the order of Nehor, but they were actual descendants of Laman and Lemuel.
Apparently conversion is genetic.
Alma 24:30 And thus we can plainly discern, that after a people have been once enlightened by the Spirit of God, and have had great knowledge of things pertaining to righteousness, and then have fallen away into sin and transgression, they become more hardened, and thus their state becomes worse than though they had never known these things.
Those terrible apostates!
Ask: Why would the church teach that ex-members are spiritually worse-off than people who didn't know about the church?
Let's make one thing clear: it's not really true that non-members don't really know about the church. Members (and missionaries) have the idea that non-members don't know about it, and if they find out about it, then they'll join.
It's not true. People know about the church. Even if it's just as simple as "polygamy" — well, what one issue could be more indicative of the church? It happened, it was shocking, and now members are trying to bury it down the memory hole — while still practicing a form of it (posthumously). Yes, I'd say that's the essence of Mormon doctrine!
There's a Christopher Hitchens quote that I can't find at the moment: People don't reject Christianity because they don't know about it; they reject it because they know about it.
Anyway, why wouldn't they think that ex-members are worse? At lest non-members might become members someday, while it seems unlikely that ex-members will. Why would you, when you've seen the man behind the curtain?
And there's another fiction that Mormons are eager to promote: that if you leave, it's because you've forgotten.
25:6 For many of them, after having suffered much loss and so many afflictions, began to be stirred up in remembrance of the words which Aaron and his brethren had preached to them in their land; therefore they began to disbelieve the traditions of their fathers, and to believe in the Lord, and that he gave great power unto the Nephites; and thus there were many of them converted in the wilderness.
I still remember everything. I remember all the so-called spiritual experiences. I just have better explanations for them now.