The Law of Tithing and the Law of the Fast
Reading assignment
Doctrine and Covenants 59:13–14, 21; 119; 120.
Links: Teacher's manual | Student manual
Objective
To show that the church has changed its interpretation of tithing in a way that benefits itself most.
Overview
This lesson is about tithing. Man, they never miss a chance to ask for money! Didn't they just do a lesson on this?
There are a few things I'm thankful about, with regard to my days of LDS membership. I learned public speaking, and I got to sing in front of an audience. But the main thing I'm grateful for is that I left before I hit peak earning potential. Not everyone is this lucky; my sympathies to those who have paid a lot, and my deepest sympathies if your spouse still insists on giving free money to what is essentially a tax-exempt real estate concern.
It's amazing that, as a member, I just believed what I told about tithing. Even if I did read what the D&C actually said on this topic, it just bounced off. So it's been enlightening in the years since my deconversion to read what follows. This is the work of other people, and I'm providing
Reading
Tithing was once on surplus
Currently, Mormons are supposed to pay 10% of their income to the church.
Net or gross? While the official Gospel Doctrine manual don't come out and say it, you're not supposed to be a cheapskate about it. The implication is: gross is the word… is the word… is the word.
President Joseph Fielding Smith of the Quorum of the Twelve explained: "It is remarkable how many excuses can be made and interpretations given as to what constitutes the tenth. … It is written, however, that as we measure it shall be measured to us again. If we are stingy with the Lord, he may be stingy with us, or in other words, withhold his blessings" (Church History and Modern Revelation, 2 vols. [1953], 2:92).
Get the picture?
But what does the Doctrine and Covenants actually say? It's all in Section 119.
D&C 119:1 Verily, thus saith the Lord, I require all their surplus property to be put into the hands of the bishop of my church in Zion,
2 For the building of mine house, and for the laying of the foundation of Zion and for the priesthood, and for the debts of the Presidency of my Church.
3 And this shall be the beginning of the tithing of my people.
4 And after that, those who have thus been tithed shall pay one-tenth of all their interest annually; and this shall be a standing law unto them forever, for my holy priesthood, saith the Lord.
5 Verily I say unto you, it shall come to pass that all those who gather unto the land of Zion shall be tithed of their surplus properties, and shall observe this law, or they shall not be found worthy to abide among you.
6 And I say unto you, if my people observe not this law, to keep it holy, and by this law sanctify the land of Zion unto me, that my statutes and my judgments may be kept thereon, that it may be most holy, behold, verily I say unto you, it shall not be a land of Zion unto you.
7 And this shall be an ensample unto all the stakes of Zion. Even so. Amen.
So in the early days, members were supposed to give the church all their extra stuff, and then pay 10% of their "interest". From the manual:
The First Presidency gave the following definition of tithing: "The simplest statement we know of is the statement of the Lord himself, namely, that the members of the Church should pay 'one-tenth of all their interest annually,' which is understood to mean income. No one is justified in making any other statement than this" (First Presidency letter, 19 Mar. 1970).
Wait… income is very different from interest. It looks like this scripture has become subject to interpretational inflation. The way this scripture reads, it looks like if you make $500 in interest on your bank accounts or investments or what have you, you're supposed to pay 10% of that. And it looks like that was the understanding at the time.
In the revelation as recorded in Mormon scripture, tithing was explained to mean members would give "all their surplus property" to the bishop at the time, Edward Partridge, and thereafter "pay one-tenth of all their interest annually."

Current LDS leaders say interest is typically interpreted as "income." But that's not what it has always meant.

"Bishop Partridge understood 'one tenth of all their interest' annually to mean 10 percent of what Saints would earn in interest if they invested their net worth for a year," Harper wrote. He cited an example from Partridge who was reportedly in the room when Smith received the revelation.

"If a man is worth a $1000, the interest on that would be $60, and one/10. of the interest will be of course $6. thus you see the plan," Partridge wrote in a letter just days after the revelation was received.
And when Joseph Smith was adding his unique touch to the Bible, he added the "ten percent of surplus" idea in there.
JST Gen 14:39 Wherefore Abram paid unto him tithes of all that he had, of all the riches which he possessed, which God had given him more than that which he had need.
If people paid 10% on their surplus (or their interest), they'd pay a lot less. But then how would the LDS Church build up massive amounts of wealth?
You didn't have to pay if you didn't have the means
Lorenzo Snow, president of the church in 1989–1901, said in his 1899 Conference Address:
"…I plead with you in the name of the Lord, and I pray that every man, woman and child who has means shall pay one tenth of their income as a tithing…"
Pay if you can.
Except that's not how the church renders this comment in their official materials. Check this out: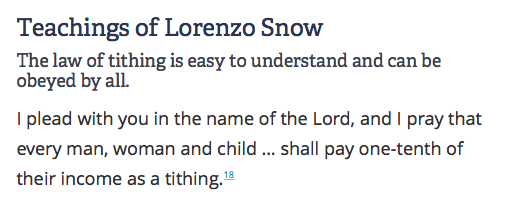 That's right; Snow said that it was okay to pay tithing if you had the means. But when the church quotes him, they take that
This wins my award for Dishonest Ellipsis of the Century.
The Malachi scripture may have only applied to priests
When the subject of tithing comes up, you can count on this scripture from Malachi:
Read Malachi 3:8–9 or 3 Nephi 24:8–9 with class members. In what ways do we "rob God" if we do not pay tithes and offerings? (You may want to have class members read D&C 59:21 and D&C 104:14 as they discuss this question.)

Malachi 3:8 Will a man rob God? Yet ye have robbed me. But ye say, Wherein have we robbed thee? In tithes and offerings.
3:9 Ye are cursed with a curse: for ye have robbed me, even this whole nation.
It's stupid to talk about robbing a supernatural being who can create a universe. But it's possible that this scripture wasn't directed at the rank and file Israelites, but rather the priests. Malachi chastised them for sacrificing the sick and blind animals, keeping back the good ones for themselves.
Malachi 1:7 Ye offer polluted bread upon mine altar; and ye say, Wherein have we polluted thee? In that ye say, The table of the LORD is contemptible.
1:8 And if ye offer the blind for sacrifice, is it not evil? and if ye offer the lame and sick, is it not evil? offer it now unto thy governor; will he be pleased with thee, or accept thy person? saith the LORD of hosts.
Maybe it's the leaders who are guilty of holding back funds, being stingy with humanitarian aid.
The church tells you to let your family starve so you can pay it
From time to time, the church teaches a truly horrendous 'family can wait' idea, where you pay the church, even of that means your family goes hungry.
After reading these scriptures together, Bishop Orellana looked at the new convert and said, "If paying tithing means that you can't pay for water or electricity, pay tithing. If paying tithing means that you can't pay your rent, pay tithing. Even if paying tithing means that you don't have enough money to feed your family, pay tithing. The Lord will not abandon you."
And here:
Transcript (source)
After some events related to our civil war in Central America [Cordón grew up in Guatemala], my father's business went bankrupt. He went from about 200 full-time employees to fewer than five sewing operators who worked as needed in the garage of our home. One day, during those difficult times, I heard my parents discussing whether they should pay tithing or buy food for the children.
If you're wondering this, you are in a cult.
On Sunday, I followed my father to see what he was going to do. After our Church meetings, I saw him take an envelope and put his tithing in it. That was only part of the lesson. The question that remained for me was: what we were going to eat!

Early Monday morning, some people knocked on our door. When I opened it, they asked for my father. I called for him, and when he arrived, the visitors told him about an urgent sewing order they needed as quickly as possible. They told him that the order was so urgent that they will pay for it in advance. That day, I learned the principles of paying tithing and the blessings that follow.
The dual purpose of tithing
So what's tithing really for? I see two purposes. The church gets all that delicious money. And because you've invested all that money, you're less likely to want to admit you've made a mistake and leave. Especially if you've starved your kids. The investment fallacy is powerful.
The manual quotes John A. Widtsoe:
"Doubt retreats; faith advances; certainty and courage buoy up the soul." (in Deseret News, 16 May 1936, Church Section, 5).
Oh, I'd say doubt retreats, all right! But it's not for honest reasons.
Of course church leaders try to claim that it's not about the money. From the manual:
Elder Joseph B. Wirthlin of the Quorum of the Twelve said that "the payment of tithing has less to do with money, but more to do with faith" (in Conference Report, Apr. 1990, 41; or Ensign, May 1990, 32). How is tithing more about faith than money?
Fine; in that case, people should pay with faith, and keep their money. Or doesn't it work that way? Why not?
Some resources
D. Michael Quinn: LDS Church Finances from the 1830s to the 1990s
https://www.sunstonemagazine.com/pdf/102-17-29.pdf
MormonThink: Tithing
http://www.mormonthink.com/tithing.htm
Wheat and Tares: Tithing: Have You Considered Paying on Surplus?
https://wheatandtares.org/2015/12/27/tithing-have-you-considered-paying-on-surplus/
An influential post by Rock Waterman, if you're into him: Are We Paying Too Much Tithing?
http://puremormonism.blogspot.com.au/2012/12/are-we-paying-too-much-tithing.html
Reddit thread by u/TruthAboutTithing
https://www.reddit.com/r/exmormon/comments/1xb5dx/proof_the_lds_church_hides_truth_about_tithing/