"Who Is My Neighbour?"
Matthew 18; Luke 10
LDS manual: here
Purpose
To show that indoctrination, ostracism, and magical cursings are not good ways to treat people.
Reading
The purpose for this lesson, according to the LDS lesson manual, is:
To help class members humble themselves, forgive others, and show charity for one another.
That's all very well, but it's only a part of the story. Believers like to cherry-pick the good bits of the Bible, and that gives people the impression that it's all nice and good, with love, puppy dogs, and rainbows for everyone. And while there's lots of good stuff in these two chapters about forgiveness and service, there are also some really bad examples of how to treat people. So this lesson's here for some balance.
Main ideas for this lesson
Little children
Jesus teaches that you have to be like a child to get into heaven.
Matthew 18:1 At the same time came the disciples unto Jesus, saying, Who is the greatest in the kingdom of heaven?
18:2 And Jesus called a little child unto him, and set him in the midst of them,
18:3 And said, Verily I say unto you, Except ye be converted, and become as little children, ye shall not enter into the kingdom of heaven.
Ask: Why would it be beneficial to a religious leader that his followers be like children?
Children are great. They have a playfulness, an openness to experience, and in lots of ways a lack of bias that's quite enviable. They haven't yet taken on political or social baggage that makes it hard for us adults to change our minds sometimes. There's a lot to recommend about having a childlike outlook.
Children are also not great at critical thinking. With their scarcity of real-world experience, they believe everything you tell them, which works to the advantage of religious leaders. This is why religions focus on the indoctrination of children, before they're able to challenge dogma.
Ask: Is there a positive function for the uncritical acceptance that children are prone to?
Answer: Richard Dawkins thinks so. In this video, he points out that children usually benefit when they uncritically accept information from parents and carers.
He likens it to the navigation system of a moth. When the only light source is the moon, moths are able to navigate smoothly. But artificial light sidetracks their systems and makes them fly in crazy loops around streetlights.
By the same token, there's a positive function to children believing what adults say. But when those adults are affected by religion, the bad is accepted along with the good, and the religion spreads. It's a case of something bad hijacking something good.

Partial transcript if you can't watch video:
These moths are not committing suicide. They're doing a piece of behaviour which would be sensible for all the millions of years that were there when the only lights you ever saw at night were celestial objects at optical infinity. Now I think that that's what religion is like. I think that religion is a byproduct of probably several psychological predispositions which in themselves have Darwinian survival value, but which have consequences parallel to the consequence of the moth flying to the candle flames — have consequences which probably don't have survival value. But just as the moth doesn't know that the candle flame is not at infinity but is close by, so those of us who have these psychological predispositions which would have been a good thing in our ancestral past — may still be a good thing — the consequence of leading to religious behavior which may not be a good thing doesn't occur to us. I mean, the kind of thing I'm thinking about is a tendency to obey authority in a child. It's probably a good thing for child to obey its parents — to believe its parents, indeed — when its parents tell it things about the world, because the child is too young to know a lot of important things about the world, and would die if it ignored its parents' beliefs; its parents advice. So good advice like "Don't jump in the fire" has survival value. But the child brain, just like the moth brain, has no way of distinguishing the good advice like "Don't jump in the fire" from the stupid advice like "Sacrifice a mongoose's kidneys at the time of the full moon, or the crops will fail." So I suspect that religion may be a complicated set of byproducts of psychological predispositions, each one of which itself has an advantage, but the religious byproduct is either neutral or — well, we don't even need to say whether it has an advantage, it doesn't matter; the Darwinian explanation is sufficient if we postulate that the original psychological predispositions had Darwinian survival value.
Again, religion poisons everything.
While I'm talking about moths, has everyone seen Norm MacDonald's moth joke?

Another take on this topic: Think of your role models. Who are the people you look up to?
As for me, I look up to smart people. My heroes are the people who are doing science. These are people who have worked to understand the world, and to build their intellectual character so as to have humility and avoid bias and self-deception. Those are the people I want to be like.
Ask: What intellectual climate is a group trying to encourage if its role models are the most cognitively immature and intellectually docile people in all of humankind?
What benefit would that be to such a group's leaders?
Early Christians must have noticed that, just as in the church today, the people they were attracting weren't the sharpest tools in the shed. And so they wrote a rationale into the Bible.
Luke 10:21 In that hour Jesus rejoiced in spirit, and said, I thank thee, O Father, Lord of heaven and earth, that thou hast hid these things from the wise and prudent, and hast revealed them unto babes: even so, Father; for so it seemed good in thy sight.
Yeah, they knew.
Hell, with fire, again
Jesus repeats his advice to cut off your hands and feet, and put out your eyes.
Matthew 18:8 Wherefore if thy hand or thy foot offend thee, cut them off, and cast them from thee: it is better for thee to enter into life halt or maimed, rather than having two hands or two feet to be cast into everlasting fire.
18:9 And if thine eye offend thee, pluck it out, and cast it from thee: it is better for thee to enter into life with one eye, rather than having two eyes to be cast into hell fire.
This is the third time Jesus has mentioned hell, with actual fire. We're going to cover Hell in more detail in lesson 17.
For now, though, let's talk about an extra angle on this scripture from the Joseph Smith Translation.
Ostracism
From the LDS Gospel Doctrine manual:
Discuss Matthew 18:8–9 and Mark 9:43–48 (see also Matthew 5:29–30).

JST Matthew 18:9 And a man's hand is his friend, and his foot, also; and a man's eye, are they of his own household.

What do these verses mean? (See Matthew 18:9, footnote 9a, which indicates that the Joseph Smith Translation identifies these offending elements as people who lead us astray. It is better to end our association with people than to allow them to lead us into sin. See also Joseph Smith Translation, Mark 9:40–48.)
Mormons, by and large, do not ostracise family members, and that's a good thing. At least, they don't do it officially. (I note, however, that I never see my old Mormon friends anymore. Maybe we never had much in common, besides church.)
This scripture, however, encourages people to disconnect from their unbelieving friends. Christianity, like a lot of ideologies, makes it difficult for believers to interact with non-believers. Some time ago, I wrote a blog post about this, which centres on a video from the Atheist Experience, in which Jeff and Matt discuss the divisive tendency of Christianity.

Partial transcript:
People who actually understand what love is; people who actually understand what morality is; people who actually understand reality; it is almost unbearable to watch the people that you love be so absolutely duped into a divisive, hateful religion that they think is not divisive; they think it's inclusive, and they think it's positive.
…
The division is entirely one-sided. I didn't end relationships when I became an atheist. Christians ended those relationships, and it was because their particular religion cannot tolerate.
Divorce
Jesus again condemns divorce — advice which many Christians happily dismiss, and good for them.
From the manual, again:
Explain that Matthew 19:1–12 describes a situation in which the Pharisees tried to trap Jesus by asking him about the lawfulness of divorce (see also Mark 10:1–12).
Explain that in ancient Israel, a man could put away, or divorce, his wife for insignificant reasons. Jesus taught that in a perfect world, such as the celestial kingdom, divorce does not exist. Because the earth is not yet perfect, divorce is allowed but should not happen except for the most serious reasons. Matthew 19:9 indicates that a man who put away his wife for a frivolous reason was still married to her in the eyes of God, and he thus committed adultery if he married another woman. (See James E. Talmage, Jesus the Christ, 3rd ed. [1916], 473–75, 484; see also Bruce R. McConkie, The Mortal Messiah, 4 vols. [1979–81], 2:138–39.)
I just want to add that when someone disapproves of something, it's very common for them to claim that people do it for frivolous reasons.
Divorce: They get married, and figure that if it doesn't work out, they'll just get divorced and try someone else!
Abortion: Why, it's just a form of birth control for some people!
Leaving the church: They were offended and wanted to sin. Something something milk strippings.
This way of thinking sees people trivialising the life choices of other people when those choices don't accord with theirs. I don't know anyone who takes any of these decisions lightly — in most cases, it's one of the most difficult and well-thought-through choices in that person's life — but for someone with this view, it makes it difficult for them to understand why anyone would make that choice. Or should I say "sin that sin". So much for empathy.
Dusting off feet
Jesus tells missionaries to dust off their feel if people don't believe them, as a kind of curse.
Luke 10:10 But into whatsoever city ye enter, and they receive you not, go your ways out into the streets of the same, and say,
10:11 Even the very dust of your city, which cleaveth on us, we do wipe off against you: notwithstanding be ye sure of this, that the kingdom of God is come nigh unto you.
10:12 But I say unto you, that it shall be more tolerable in that day for Sodom, than for that city.
This has led to some pretty wild stories about modern foot-dusting. Here's one about Samuel Smith, brother of Joseph Smith.
"Samuel was sick at heart, for this was the 5th time he had been turned out of doors that day. He left the house and traveled a short distance and washed his feet in a small brook, as a testimony against [the tavern owner who had rejected him]. He then proceeded five miles further on his journey, and seeing an apple tree a short distance from the road, he concluded to pass the night under it; and here he lay all night upon the cold, damp ground. In the morning, he arose from his comfortless bed, and observing a small cottage at no great distance, he drew near, hoping to get a little refreshment…. He…proceeded to Bloomington, which was 8 miles further.
"Here he stopped at the house of John P. Greene, who was a Methodist preacher and was at that time about starting on a preaching mission. He, like the others, did not wish to make a purchase of what he considered at that time to be a nonsensical fable; however, he said that he would take a subscription paper, and if he found anyone on his route who was disposed to purchase, he would take his name, and in two weeks Samuel might call again and he would let him know what the prospect was of selling. After making this arrangement, Samuel left one of his books with him, and returned home. At the time appointed, Samuel started again for the Reverend John P. Greene's, in order to learn the success which this gentleman had met with in finding sale for the Book of Mormon. This time, Mr. Smith and myself accompanied him, and it was our intention to have passed near the tavern where Samuel was so abusively treated a fortnight previous, but just before we came to the house, a sign of smallpox intercepted us. We turned aside, and meeting a citizen of the place, we inquired of him, to what extent this disease prevailed. He answered that the tavern keeper and two of his family had died with it not long since, but he did not know that anyone else had caught the disease, and that it was brought into the neighborhood by a traveler who stopped at the tavern overnight" (Lucy Mack Smith, History of Joseph Smith, pp.225-226)
Yep — he dusted off his feet, and gave someone smallpox. Because that's how smallpox works. Kind of a dick move, isn't it?
This scripture stands as a bit of a contrast to the previous chapter, where Jesus refuses to curse some Samaritans.
Luke 9:51 And it came to pass, when the time was come that he should be received up, he stedfastly set his face to go to Jerusalem,
9:52 And sent messengers before his face: and they went, and entered into a village of the Samaritans, to make ready for him.
9:53 And they did not receive him, because his face was as though he would go to Jerusalem.
9:54 And when his disciples James and John saw this, they said, Lord, wilt thou that we command fire to come down from heaven, and consume them, even as Elias did?9:55 But he turned, and rebuked them, and said, Ye know not what manner of spirit ye are of.9:56 For the Son of man is not come to destroy men's lives, but to save them. And they went to another village.
Consistency wasn't Jesus's big thing.
On my mission, foot-dusting-off was the subject of some discussion. Some missionaries were like, "Well, the scripture tells us to do it," and other elders were like, "OMG, don't do it, you'll kill someone and destroy entire cities." Never did it occur to me that I was worshipping and serving an abusive asshole.
The silly things we used to think.
Satan falling from heaven
A throw-away quote from Jesus gives us one of the world's great pick-up lines.
Luke 10:17 And the seventy returned again with joy, saying, Lord, even the devils are subject unto us through thy name.
10:18 And he said unto them, I beheld Satan as lightning fall from heaven.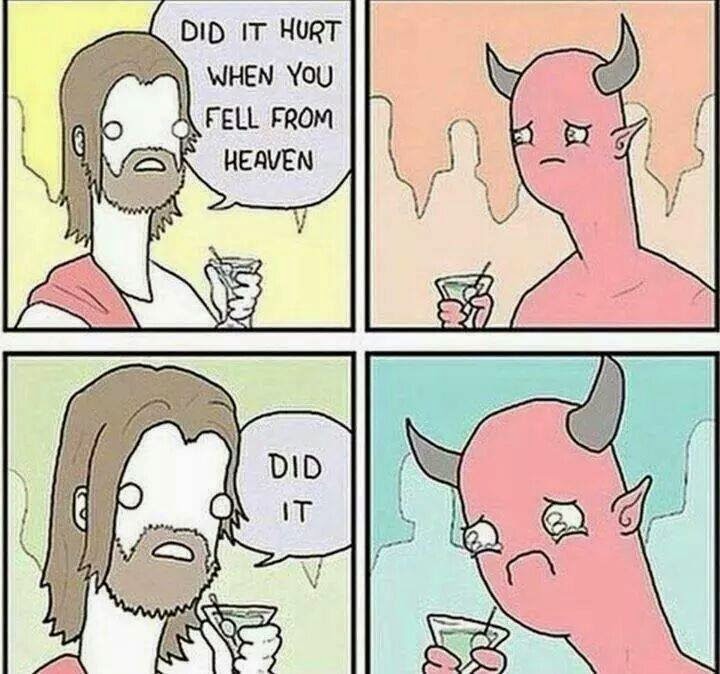 The good Samaritan
We're getting to the end of this lesson, and we've seen so much bad behaviour so far. Let's hear a good story.
Luke 10:25 And, behold, a certain lawyer stood up, and tempted him, saying, Master, what shall I do to inherit eternal life?
10:26 He said unto him, What is written in the law? how readest thou?
10:27 And he answering said, Thou shalt love the Lord thy God with all thy heart, and with all thy soul, and with all thy strength, and with all thy mind; and thy neighbour as thyself.
10:28 And he said unto him, Thou hast answered right: this do, and thou shalt live.
10:29 But he, willing to justify himself, said unto Jesus, And who is my neighbour?
10:30 And Jesus answering said, A certain man went down from Jerusalem to Jericho, and fell among thieves, which stripped him of his raiment, and wounded him, and departed, leaving him half dead.
10:31 And by chance there came down a certain priest that way: and when he saw him, he passed by on the other side.
10:32 And likewise a Levite, when he was at the place, came and looked on him, and passed by on the other side.
10:33 But a certain Samaritan, as he journeyed, came where he was: and when he saw him, he had compassion on him,
10:34 And went to him, and bound up his wounds, pouring in oil and wine, and set him on his own beast, and brought him to an inn, and took care of him.
10:35 And on the morrow when he departed, he took out two pence, and gave them to the host, and said unto him, Take care of him; and whatsoever thou spendest more, when I come again, I will repay thee.
10:36 Which now of these three, thinkest thou, was neighbour unto him that fell among the thieves?
10:37 And he said, He that shewed mercy on him. Then said Jesus unto him, Go, and do thou likewise.
It's great to do good where you see it — and it's sometimes hard to recognise such a situation in the moment. In a famous study, psychologists found that our willingness to help was more a function of the situation, and not our personality.
We are all too quick to apply dispositional labels on people for their actions or lack of actions, while ignoring the situational factors that are so influential in behavior. We need to stop and think before being too hard on ourselves or on others for actions and behaviors.
Even so, one does get the impression that Jesus didn't find Samaritans entirely positive.

If I could give some secular homework for this lesson, maybe it would be to look for opportunities to help. Some causes present themselves to us online, while others appear in real life. Maybe taking time to notice them would help us to step up and make a difference. Let's all take a cue from the slogan of the Sunday Assembly, and "help often".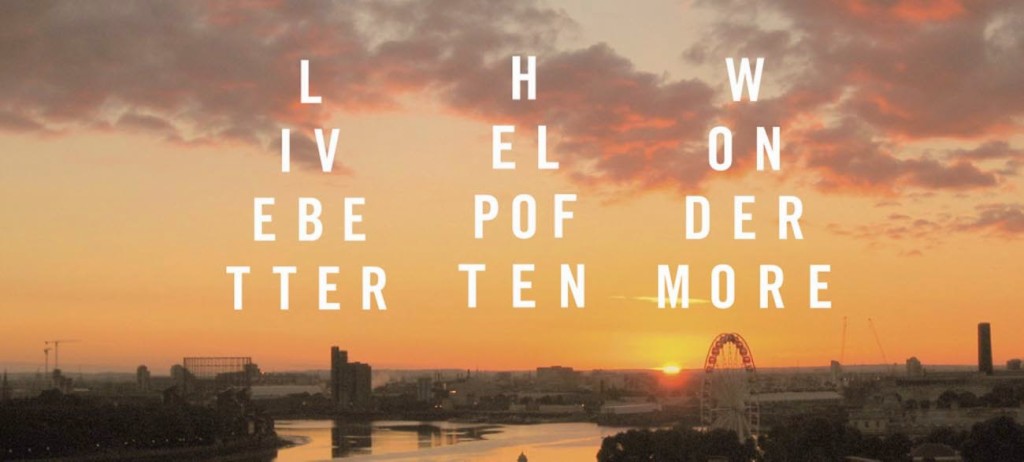 See what you can do by next week.