"All Things According to His Will"
1 Nephi 1–7
LDS manual: here
Purpose
To encourage intellectual independence, and discourage the intellectual docility and immorality that results from a focus on obedience to "what God wants"
Reading
Here we go, into the Book of Mormon, starting with 1 Nephi 1.
This first part is the best part of the whole book. It's a rollicking adventure tale that really moves. I think the reason that it works so well is that the author (let's say it was Joseph Smith) had two goes at it. The first draft was probably burnt by Lucy Harris (Martin's wife), and — mechanical reproduction not being an option in this age — Joseph had to write the whole thing again. The second draft is always better, isn't it?
• Lehi has a vision that Jerusalem is to be destroyed and he has to leave.
1 Nephi 1:13 And he read, saying: Wo, wo, unto Jerusalem, for I have seen thine abominations! Yea, and many things did my father read concerning Jerusalem — that it should be destroyed, and the inhabitants thereof; many should perish by the sword, and many should be carried away captive into Babylon.
• He tries to warn the people, but they try to kill him, because Jews. Nice to see some consistency between the anti-Semitism of the New Testament and the anti-Semitism of the Book of Mormon.
1 Nephi 1:19 And it came to pass that the Jews did mock him because of the things which he testified of them; for he truly testified of their wickedness and their abominations; and he testified that the things which he saw and heard, and also the things which he read in the book, manifested plainly of the coming of the Messiah, and also the redemption of the world.
1:20 And when the Jews heard these things they were angry with him; yea, even as with the prophets of old, whom they had cast out, and stoned, and slain; and they also sought his life, that they might take it away. But behold, I, Nephi, will show unto you that the tender mercies of the Lord are over all those whom he hath chosen, because of their faith, to make them mighty even unto the power of deliverance.
• The family — Lehi and Sariah, Laman, Lemuel, Sam, Nephi, and an undetermined number of sisters, not worth mentioning — head into the wilderness.
1 Nephi 2:4 And it came to pass that he departed into the wilderness. And he left his house, and the land of his inheritance, and his gold, and his silver, and his precious things, and took nothing with him, save it were his family, and provisions, and tents, and departed into the wilderness.
2:5 And he came down by the borders near the shore of the Red Sea; and he traveled in the wilderness in the borders which are nearer the Red Sea; and he did travel in the wilderness with his family, which consisted of my mother, Sariah, and my elder brothers, who were Laman, Lemuel, and Sam.
• Lehi sends Nephi and his rebellious brothers back to Jerusalem, to get some brass plates containing their scriptures and history.
1 Nephi 3:2 And it came to pass that he spake unto me, saying: Behold I have dreamed a dream, in the which the Lord hath commanded me that thou and thy brethren shall return to Jerusalem.
3:3 For behold, Laban hath the record of the Jews and also a genealogy of my forefathers, and they are engraven upon plates of brass.
• After making some long boring speeches to his brothers, Nephi kills Laban and steals the plates. Zoram, a servant, joins the party.
1 Nephi 4:18 Therefore I did obey the voice of the Spirit, and took Laban by the hair of the head, and I smote off his head with his own sword.
4:38 And it came to pass that we took the plates of brass and the servant of Laban, and departed into the wilderness, and journeyed unto the tent of our father.
• Lehi tells Nephi to return to Jerusalem for a third time, and bring Ishmael, and his daughters for breeding. Whether the daughters had any say in the matter is unknown. Already it's not looking great for women in this book.
1 Nephi 7:2 And it came to pass that the Lord commanded him that I, Nephi, and my brethren, should again return unto the land of Jerusalem, and bring down Ishmael and his family into the wilderness.
Main ideas for this lesson
Mormon role models
Nephi is probably the Book of Mormon's greatest hero and spiritual role model.
And he's a pain in the ass.
It's hard to say this without sounding like Laman or Lemuel — which I suppose is the point of having these two characters in the story — but it's true. Nephi goes on at length about his own righteousness, and responds to any opposition with sanctimonious hectoring and long religious speeches.
Ask: What unpleasant effects could Nephi-as-role-model have on Mormons?
Answers: Poor boundaries, calls to repentance, lack of respect for other people's life choices, insufferability
To see this story from another angle, try reading the Book of Lemuel.
DEAR DIARY,
It looks like dad is serious about this leaving thing. He says that he had "a dream in which God told him to leave Jerusalem. I guess it couldn't have had anything to do with the mostaccioli he ate before he went to bed. I always have dreams like that if I eat pizza before I sleep.

Laman and I are resisting, but it looks like we're going too. We don't really have to, I guess, but if we don't, how will we eat? Despair. I have a girlfriend and my own horse. Dad is loaded with gold, which we can't take into the wilderness because it's too heavy. of course, that momma's boy Nephi is eager to go. He makes me sick I think I'll hurl my lunch if I see him again today.
LEM.
Nephi kills Laban
I want to focus on the most morally problematic action in this reading: the killing of Laban. That's because I find it especially revealing of a lot of things I find troubling about the intellectual and moral climate of Mormonism, and theism in general.
As a young missionary, I handed out a lot of copies of the Book of Mormon. Sometimes investigators would actually read the damn thing. And sometimes the conversion process would come to screeching halt when they got to the part where Nephi kills Laban and takes the brass plates.
I'm embarrassed about this now, but at the time I never understood the objection! If God commands something, then you do it, right?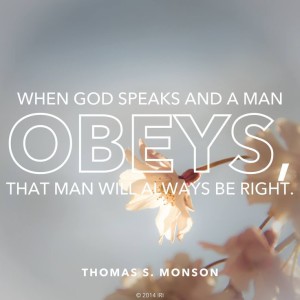 This is what I grew up with. My bishop used to say, "If the Prophet told me to go up to the top of a mountain, stand on my head and peel grapes with my toes, I would do it." And he was supposed to be some kind of spiritual role model.
Like this guy.
And that's part of the problem. When "doing what God says" is the most important thing, we have to ask, "How do we know what God says"?
There are two answers. One is "Leaders will tell you".
But when LDS leaders tell members to obey God, and that they speak for God, they're really just telling people to obey them.
This sets up a system ripe for abuse and exploitation.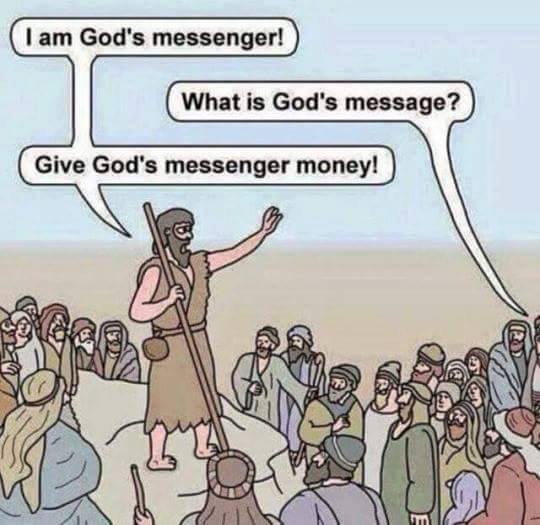 The other answer is even more problematic. According to LDS theology, revelations from God can come in the form of "promptings" — thoughts or impressions.
Ask: How does Nephi know that God wants him to cut off Laban's head?
Answer: He hears a voice in his head.
1 Nephi 4:10 And it came to pass that I was constrained by the Spirit that I should kill Laban; but I said in my heart: Never at any time have I shed the blood of man. And I shrunk and would that I might not slay him.
4:11 And the Spirit said unto me again: Behold the Lord hath delivered him into thy hands. Yea, and I also knew that he had sought to take away mine own life; yea, and he would not hearken unto the commandments of the Lord; and he also had taken away our property.
4:12 And it came to pass that the Spirit said unto me again: Slay him, for the Lord hath delivered him into thy hands;
So with this lesson, the LDS Church is essentially teaching millions of people that if you have an spiritual impression to do something (like cut off someone's head), and you feel okay about this, and it seems like there are some good reasons for doing so, you should go ahead and behead.
(Or not. Church leaders sometimes give contradictory advice about this.)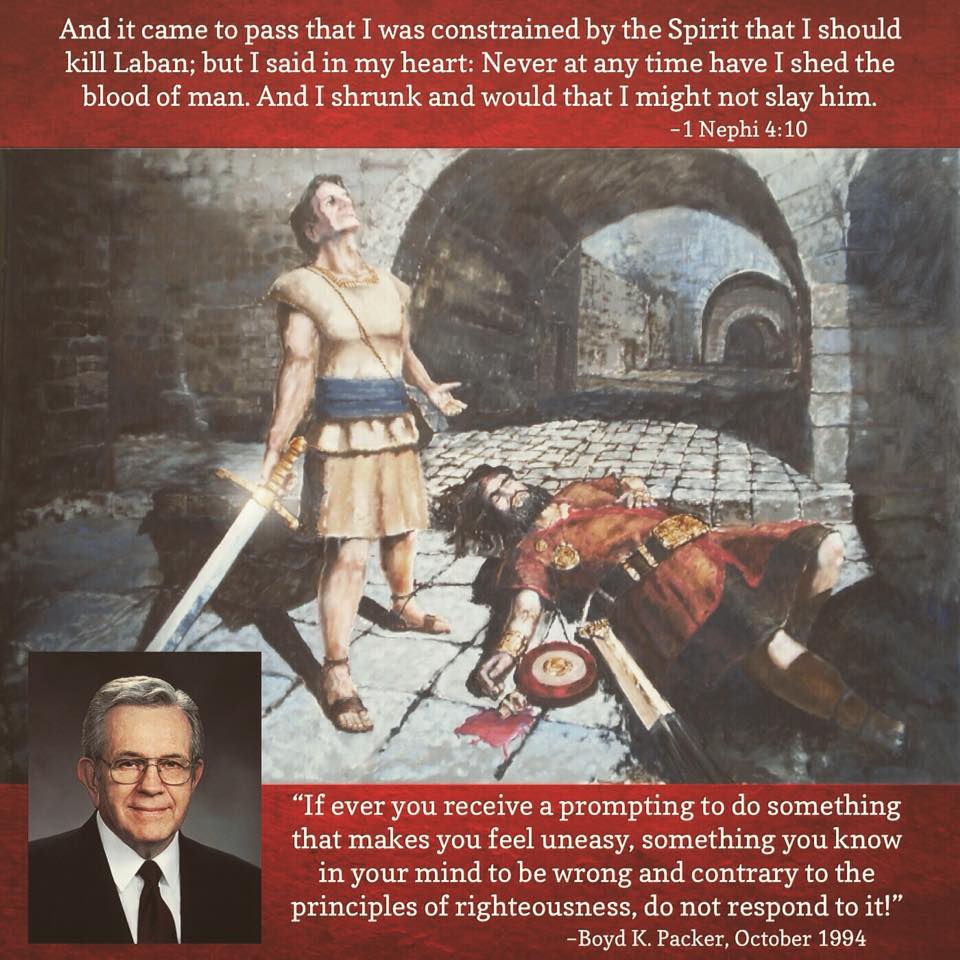 The whole idea that "doing God's will" comes first seems calculated to engender a kind of intellectual docility, at best.
At worst, it can give believers a motivation to do any atrocity with divine sanction.
The really frightening thing is that Mormons are being taught this kind of fake morality, and then are released into the public, among the rest of us! Why aren't there more problems?
Oh, wait.
Let me reshare Greta Christina's great post on why religious faith is such a problem.
Religion is ultimately dependent on belief in invisible beings, inaudible voices, intangible entities, undetectable forces, and events and judgments that happen after we die.

It therefore has no reality check.

And it is therefore uniquely armored against criticism, questioning, and self-correction. It is uniquely armored against anything that might stop it from spinning into extreme absurdity, extreme denial of reality… and extreme, grotesque immorality.
…
There's no reality check saying that their actions are having a terrible effect in the world around them. The world around them is, quite literally, irrelevant. The next world is what matters. And since there's no way to conclusively demonstrate what will and won't get you a good place in that world, or whether that world even exists… the sky's the limit. There's no way to test the assertion that God wants women to wear burqas and have clitoridectomies… or that God wants us to ban same-sex marriage and teach children dangerous lies about sex. The reality check is absent. The brake lines of morality have been cut.
In light of all this, take another look at the title of this lesson: "All Things According to His Will".
It has sinister overtones, doesn't it?
Plot holes
1. Wasn't there some other way that this could have been accomplished?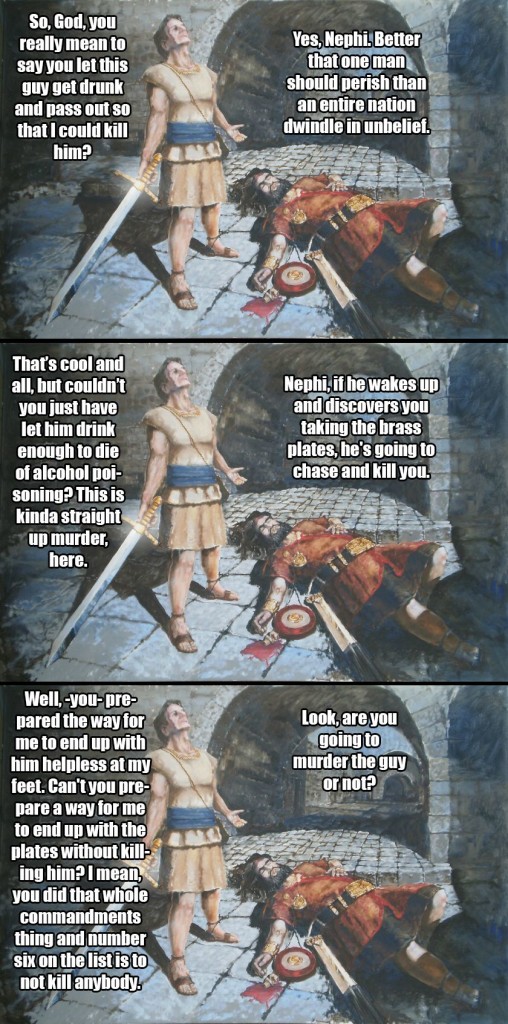 2. After the murder, Nephi puts on Laban's clothes. How much blood would there be in a routine beheading? I imagine Nephi appearing to his brothers in Laban's gory clothes.
1 Nephi 4:28 And it came to pass that when Laman saw me he was exceedingly frightened, and also Lemuel and Sam. And they fled from before my presence; for they supposed it was Laban, and that he had slain me and had sought to take away their lives also.
Yeah, I'll bet they fled. "Look, it's our psychotic delusional brother! What the fuck has he done now?"
3. (And this is the big one.)
Why did Nephi need the plates at all? Couldn't the Lord just reveal the information again?
This argument becomes hard to refute in the light of the Church's release of this photo of a rock that Joseph Smith used to translate the book of Mormon.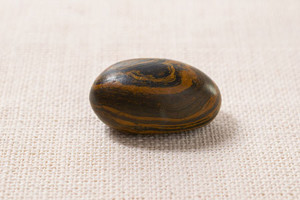 One of the implications was that the plates — that were so important to preserve — weren't actually used in the translation process, and needn't have been recovered at all.
Naturally, Nephi was pretty ticked about this.

Zedekiah is an anachronism
I'm not a historian, but others have pointed out that the Book of Mormon events wouldn't have happened as written. The king that Nephi says was a king wouldn't have been king.
As per 1 Nephi 1:4 which states:

For it came to pass in the commencement of the first year of the reign of Zedekiah, king of Judah, (my father, Lehi, having dwelt at Jerusalem in all his days); and in that same year there came many prophets, prophesying unto the people that they must repent, or the great city Jerusalem must be destroyed.

Zedekiah was set up as ruler over Judah by Nebuchadnezzar II after Babylonian capture. Jeconiah should have been the king of Judah in the Book of Mormon.
Whoops. Guess that's what happens when you're fictional.