"This Is My Voice unto All"
Reading assignment
Links: Teacher's manual | Student manual
It's a busy year for Your Humble Godless Doctrine teacher. So I'm posting this lesson as kind of a rough outline, with the intention of filling in the details later. Think of this as the notes that a Gospel Doctrine teacher would walk into class with.
Overview
This lesson is about Emma Smith Hales, Joseph Smith's first wife (but not the first one he was sealed to).
In the church days of my youth, we didn't talk much about Emma. I'd heard that she didn't follow the Saints west, married someone else, and joined the Reorganised Church. So that sounded a bit shady. On the other hand, she had helped act as scribe for the Book of Mormon, even showing a remarkable lack of curiosity when she allegedly saw the "gold plates" left unattended, wrapped in a tablecloth.
"The plates often lay on the table without any attempt at concealment, wrapped in a small linen tablecloth, which I had given him [Joseph Smith, Jr.] to fold them in. I once felt of the plates, as they thus lay on the table, tracing their outline and shape. They seemed to be pliable like thick paper, and would rustle with a metallic sound when the edges were moved by the thumb, as one does sometimes thumb the edges of a book. … I did not attempt to handle the plates, other than I have told you, nor uncover them to look at them. I was satisfied that it was the work of God, and therefore did not feel it to be necessary to do so. … I moved them from place to place on the table, as it was necessary in doing my work." (The Saints' Herald, 1 Oct. 1879, p. 290; spelling modernized.)
By the way, isn't this kind of odd? I was always told that evil people stopped at nothing to get their hands on the plates, and that the plates had to be moved about all the time. But no, they're just over there on the table.
So who was Emma Smith? Co-conspirator? Wronged woman? Infidel? What a fascinating range to choose from! But talking about her in church was fraught with peril — who knew what would come out from under that rock if you lifted it a little?
Well, for this lesson, the church constructs a much more wholesome image for her, and one that's much more in line for what the church wants its female members to be: Emma as loving and supportive spouse.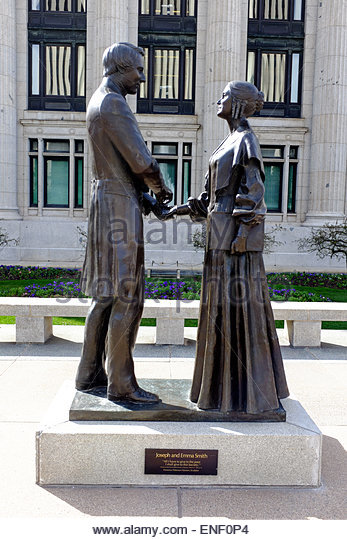 Remember how I said that the Doctrine and Covenants really only makes sense if you think of it as Joseph Smith telling everyone what God wants them to do for Joseph Smith? This manipulation is evident in Section 25 — though, as we'll see, this is not the most manipulative section. Not by a long shot.
Reading
Support
Emma married Joseph in 1827, over the objections of her father, who saw Smith as a dishonest character. From Mormonism Unvailed:
When we arrived at Mr. Hale's, in Harmony, Pa. from which place he had taken his wife, a scene presented itself, truly affecting. His father-in-law (Mr. Hale) addressed Joseph, in a flood of tears: "You have stolen my daughter and married her. I had much rather have followed her to her grave. You spend your time in digging for money — pretend to see in a stone, and thus try to deceive people." Joseph wept, and acknowledged he could not see in a stone now, nor never could; and that his former pretensions in that respect, were all false.
Let's see what the manual has to say about the happy couple.
In July 1830, the Lord directed a revelation to Emma Smith, the wife of the Prophet Joseph Smith (D&C 25). Display a picture of Emma Smith. Explain that this lesson focuses on three themes from the Lord's revelation to Emma.

1. Husbands and wives should support and comfort each other.
D&C 25:5 And the office of thy calling shall be for a comfort unto my servant, Joseph Smith, Jun., thy husband, in his afflictions, with consoling words, in the spirit of meekness.
Joseph says that God says to be nice to Joseph.
The manual again.
The Prophet taught husbands, "It is the duty of a husband to love, cherish, and nourish his wife, and cleave unto her and none else; he ought to honor her as himself, and he ought to regard her feelings with tenderness" (Elders' Journal, Aug. 1838, 61).
What a shame that he didn't keep this advice. Somewhere between 1833 and 1835, Joseph Smith  diverted his attention to Fanny Alger, who had worked for Joseph and Emma as a maid. William McLellin alleged that Joseph and Fanny had been caught by Emma in flagrante delicto.
"Again I told her [Emma] I heard that one night she missed Joseph and Fanny Alger. She went to the barn and saw him and Fanny in the barn together alone. She looked through a crack and saw the transaction!! She told me this story too was verily true."

– William McLellin, 1872 letter to Joseph Smith III, see In Sacred Loneliness: The Plural Wives of Joseph Smith, by Todd Compton, p. 35
Oliver Cowdery spoke of the…
"dirty, nasty, filthy affair of his and Fanny Alger's … in which I strictly declared that I had never deserted from the truth in the matter, and as I supposed was admitted by himself."
Oliver was excommunicated in 1938, apparently for not shutting up about it.
The church essay on this topic  tries to paper things over.
Fragmentary evidence suggests that Joseph Smith acted on the angel's first command by marrying a plural wife, Fanny Alger, in Kirtland, Ohio, in the mid-1830s. Several Latter-day Saints who had lived in Kirtland reported decades later that Joseph Smith had married Alger, who lived and worked in the Smith household, after he had obtained her consent and that of her parents. Little is known about this marriage, and nothing is known about the conversations between Joseph and Emma regarding Alger.
Calling it a "marriage" seems a stretch. Fanny moved on and married Solomon Custer in 1836, which is kind of what you do when you've had an "affair", not a "marriage".
On all of this, the Gospel Doctrine manual simply says:
Joseph and Emma Smith were a great support to each other during the many times of affliction they faced.
Not a word about Joseph's sexual predation on other women.
(h/t: Redditor Juggler_Vain)
Activity: If you are in a real Gospel Doctrine class, please let us know if the instructor mentions the other women without being prompted by class members.
Pride
Here's a theme that will be of no surprise to those who have read the Book of Mormon.
2. We should be meek and avoid pride.
The Lord commanded Emma Smith to "continue in the spirit of meekness, and beware of pride"

Read the following verses with class members:

a. D&C 23:1 (to Oliver Cowdery): "Beware of pride, lest thou shouldst enter into temptation."
b. D&C 38:39 (to the Saints in a conference of the Church): "Beware of pride, lest ye become as the Nephites of old."
c. D&C 90:17 (to the First Presidency of the Church): "Be admonished in all your high-mindedness and pride, for it bringeth a snare upon your souls."
d. D&C 98:19–20 (to the Saints in Kirtland): "I, the Lord, am not well pleased with many who are in the church at Kirtland; For they do not forsake their sins, and their wicked ways, the pride of their hearts, and their covetousness."
Ask: Why did Joseph Smith tell so many people to avoid pride?
A major threat for a movement's leaders is that people lower in the hierarchy will usurp them. You have to teach them to know their place. Convincing those people to be humble can help to tamp that down.
So many things about the church seems calculated to instill into its members a sense of docility and timidity in the face of unquestionable authority.
Rejoice
Here's point 3 in the manual:
3. We should rejoice and be of good cheer.
The Lord admonished Emma Smith, "Lift up thy heart and rejoice"
Well, it does say that, kind of. But let's read the whole verse.
D&C 25:13 Wherefore, lift up thy heart and rejoice, and cleave unto the covenants which thou hast made.
14 Continue in the spirit of meekness, and beware of pride. Let thy soul delight in thy husband, and the glory which shall come upon him.
15 Keep my commandments continually, and a crown of righteousness thou shalt receive. And except thou do this, where I am you cannot come.
So what it actually says is: rejoice. And be meek, humble, love your husband, or else!
No idea whether being threatened like this made Emma feel joyful. Guessing not.
The picture that I get from this lesson is: Joseph Smith was gross. If God didn't pick a womanising conman as his chosen prophet, he certainly showed a startling disregard for the fact that his chosen prophet looked an awful lot like a womanising conman.
Additional lesson ideas
A better world?
D&C 25:10 And verily I say unto thee that thou shalt lay aside the things of this world, and seek for the things of a better.
Horrible advice. This life is the only life we're sure that we get. But the church tries to convince us to use up our life in the service of perpetuating itself, and furthering its cause. Don't worry, they say; you get another life — if you give us this one.
This is one of the more evil beliefs in the church. The only better world that we're ever going to see is the better world that we create ourselves right here, and it's not going to happen if we're ignoring it in favour of an illusory afterlife.
Did Emma try to kill Joseph?
There's a story about how Emma tried to put poison in Joseph's coffee. Steve Benson dismisses this as Brigham Young's paranoia, and I tend to agree.
There is such a thing as justifiable homicide, and if she had succeeded — or more effective still, if someone had smothered an infant Joseph Smith in his cot — it would have spared her the lies and deceit of her philandering guru husband, and perhaps spared the world the dreary, dishonest, and self-serving religion known as Mormonism.