"My Soul Is Pained No More"
Mosiah 25–28; Alma 36
LDS manual: here
Purpose
To encourage separation of church and state, and to point out how, for religious people, misplaced concern bleeds over into contempt.
Reading
The story of this reading is the story of conflict between believers and unbelievers. How can we live peacefully among people with whom we have religious disagreements?
This has been on my mind lately, because I'm about to go on a big family visit, and just about all the rest of my family is still in the church. What to do?
My answer: Go, and have a great time, because that's what we always do! Lucky for me, my family members aren't a bunch of jerks. And I don't mention the church unless someone asks. (Which some do.) Basically, it's going to be AvoidFest 2016. That's how we work it out, and yeah, there's some distance, but at least we have some fun getting together, eating food, meeting young grand-nieces and -nephews, and never mentioning the church at all ever.
Main points of this lesson
How the Book of Mormon recommends dealing with non-believers
How does the Book of Mormon handle this? Let's drop in on the Nephites, who are all one big group now. Mosiah's reading them the records of Zeniff.
Mosiah 25:7 And now, when Mosiah had made an end of reading the records, his people who tarried in the land were struck with wonder and amazement.
25:8 For they knew not what to think; for when they beheld those that had been delivered out of bondage they were filled with exceedingly great joy.
25:9 And again, when they thought of their brethren who had been slain by the Lamanites they were filled with sorrow, and even shed many tears of sorrow.
25:10 And again, when they thought of the immediate goodness of God, and his power in delivering Alma and his brethren out of the hands of the Lamanites and of bondage, they did raise their voices and give thanks to God.
You'll have to give them a minute here, people! It's all a bit much.
Mosiah 25:11 And again, when they thought upon the Lamanites, who were their brethren, of their sinful and polluted state, they were filled with pain and anguish for the welfare of their souls.
Okay, well, now we have a problem. If my family decided to wail and moan over my "sinful and polluted state", I'd tell them to get the hell over themselves and mind their own damn business (sorry for swears), because I'm actually doing quite well. I think everyone would be a lot better off if they could just chill the darn heck out over other people's sins.
In the modern church, this spills over into a fear of contamination. When it comes to the truth about the church's history, the church uses a disease and contagion metaphor to instill fear of outside information in its members. From the awful Boyd K. Packer:
"That historian or scholar who delights in pointing out the weaknesses and frailties of present or past leaders destroys faith. A destroyer of faith – particularly one within the Church, and more particularly one who is employed specifically to build faith – places himself in great spiritual jeopardy. He is serving the wrong master, and unless he repents, he will not be among the faithful in the eternities… Do not spread disease germs!" (Boyd K. Packer, 1981, BYU Studies, Vol. 21, No. 3, pp. 259-271)
As the story continues, we find that there are some people among the Nephites who have the good sense not to believe the prevailing religious nonsense of their time.
Ask: How does the Book of Mormon depict non-believers?
Mosiah 26:1 Now it came to pass that there were many of the rising generation that could not understand the words of king Benjamin, being little children at the time he spake unto his people; and they did not believe the tradition of their fathers.
26:2 They did not believe what had been said concerning the resurrection of the dead, neither did they believe concerning the coming of Christ.
26:3 And now because of their unbelief they could not understand the word of God; and their hearts were hardened.
26:4 And they would not be baptized; neither would they join the church. And they were a separate people as to their faith, and remained so ever after, even in their carnal and sinful state; for they would not call upon the Lord their God.
Answers: Hard-hearted, carnal, sinful. They "can't understand the gospel".
Ask: Have you been described this way by believers?
Ask: What could be the church's purpose in slandering non-believers in this way?
Answers:
To instill a fear of non-believers in the membership
To down-weight non-members as a source of information
To poison the well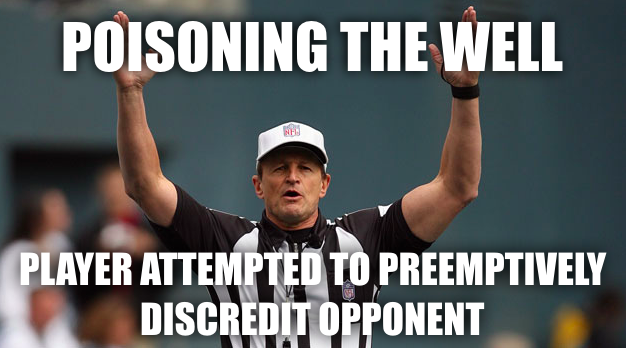 Note that the LDS Gospel Doctrine manual grimly asserts:
Many Church members are led into sin by unbelievers.
Well, many church non-members are led into stupidity by church members!
It should be pointed out, as well, that "wanting to sin" might be a perfectly good reason for leaving the church.
As if all of this weren't bad enough, the non-believers are hauled up before the priests and admonished for "sins" and "iniquities".
Mosiah 26:5 And now in the reign of Mosiah they were not half so numerous as the people of God; but because of the dissensions among the brethren they became more numerous.
26:6 For it came to pass that they did deceive many with their flattering words, who were in the church, and did cause them to commit many sins; therefore it became expedient that those who committed sin, that were in the church, should be admonished by the church.
26:7 And it came to pass that they were brought before the priests, and delivered up unto the priests by the teachers; and the priests brought them before Alma, who was the high priest.
26:8 Now king Mosiah had given Alma the authority over the church.
26:9 And it came to pass that Alma did not know concerning them; but there were many witnesses against them; yea, the people stood and testified of their iniquity in abundance.
Imagine that you're at home trying to get some iniquity done, and someone drags you from your place and throws you into a boring religious meeting to account for your actions! There, people accuse you of non-specific crimes of a religious nature.
You'd think this would ring some alarm bells for Alma, who saw Abinadi hauled up before a bunch of priests in similar fashion.
Anyway, Alma takes it to God, and God says, it's chill: just kick them out of church, and I'll burn them for eternity later.
Mosiah 26:25 And it shall come to pass that when the second trump shall sound then shall they that never knew me come forth and shall stand before me.
26:26 And then shall they know that I am the Lord their God, that I am their Redeemer; but they would not be redeemed.
26:27 And then I will confess unto them that I never knew them; and they shall depart into everlasting fire prepared for the devil and his angels.
Laws about religious persecution
King Mosiah lays down some laws preventing persecution.
Mosiah 27:1 And now it came to pass that the persecutions which were inflicted on the church by the unbelievers became so great that the church began to murmur, and complain to their leaders concerning the matter; and they did complain to Alma. And Alma laid the case before their king, Mosiah. And Mosiah consulted with his priests.
Again, note that the unbelievers are charged with some form of non-specific persecution. Probably just existing.
The LDS manual says this:
"Mosiah issues a proclamation forbidding believers and unbelievers from persecuting each other."
Well, not from the text!
Mosiah 27:2 And it came to pass that king Mosiah sent a proclamation throughout the land round about that there should not any unbeliever persecute any of those who belonged to the church of God.
27:3 And there was a strict command throughout all the churches that there should be no persecutions among them, that there should be an equality among all men;
These verses state that
Unbelievers can't persecute believers
Believers can't persecute each other
Guess what's missing.
Before we leave this section, let me say that I never noticed how puritanical and dictatorial this society is, and I find this astounding. This is not the kind of conduct that any society should aspire to. It's more a product of Saudi Arabia or Iran. And yet, it's presented to Mormons as normal.
Destroy the church
The rest of this reading concerns one Alma the Younger, son of Alma, and one of the unbelievers.
Mosiah 27:8 Now the sons of Mosiah were numbered among the unbelievers; and also one of the sons of Alma was numbered among them, he being called Alma, after his father; nevertheless, he became a very wicked and an idolatrous man. And he was a man of many words, and did speak much flattery to the people; therefore he led many of the people to do after the manner of his iniquities.
You know what — I want to hear some of this flattery. I'm trying to imagine how I could flatter people so hard that they'd perform some iniquities.
Mosiah 27:9 And he became a great hinderment to the prosperity of the church of God; stealing away the hearts of the people; causing much dissension among the people; giving a chance for the enemy of God to exercise his power over them.
27:10 And now it came to pass that while he was going about to destroy the church of God, for he did go about secretly with the sons of Mosiah seeking to destroy the church, and to lead astray the people of the Lord, contrary to the commandments of God, or even the king —
Destroy the church? Surely this is a straw man, isn't it? Apostates don't want to destroy the church — they're happy to live and let live, right?
Actually, no. I would dearly love to destroy the church. I want it reduced to atoms. Not through violence or anything like that — I want to destroy it through education.
It may be hard for members to understand why I oppose the LDS Church — and really all forms of religion, superstition, pseudoscience, and unreason. So I'll tell a story.
One night, I was out in front of a phoney talk-to-the-dead medium event, handing out "Psychic Bingo" cards. (Yes, this is another thing I do.)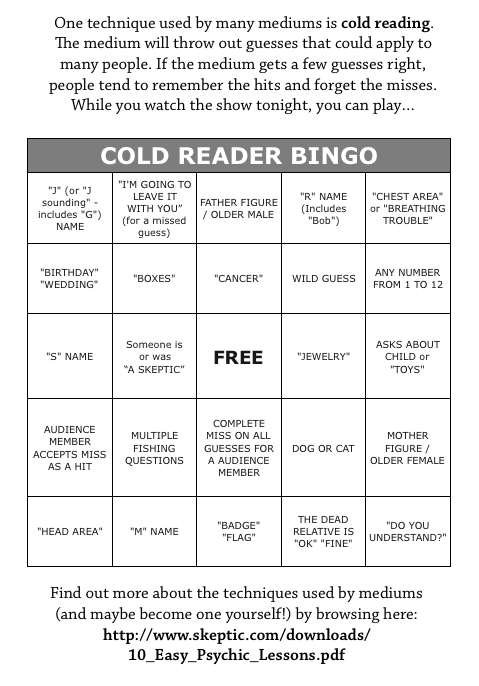 And I saw two women, presumably a woman and her daughter. The older one looked at me with a wearily concerned expression, and asked me, "Why do you care?"
I guess she's tired of skeptics.
I responded, "Because I think people need to have good information when they're making choices." That's true for phoney mystics of any stripe. People deserve informed consent, and that's not something they get from the LDS Church. Instead, information about the church (the temple, the history, the underwear) is carefully dished out to those who "ought" to have it. When caught doing this, the church dissembles carefully.
But if you really want to know, here's my top ten list: Why I want to destroy the church.
Because it teaches a false feel-good method for finding out what's true, which makes it really difficult to find out what really is true using evidence
Because it teaches things that can't be proven true, or that have already been proven false
Because it teaches a narrow sex-based view of morality which makes people feel ashamed of their bodies and desires
Because it interferes with marriage equality, and it has the blood of LGBT kids on its hands
Because it makes its members look down on those who don't believe its nonsense
Because it tears families apart, just like Jesus said he would do
Because it whitewashes its history, and turns an adulterous con-man into the second-best thing next to Jesus
Because it charges its members for the pleasure of being lied to, and builds a multi-billion dollar empire with it
Because it absorbs the lives of its members in an endless chain of arbitrary moral commands, ceaseless admin duties, and time-wasting make-work, so they don't have the time to think
Because it makes people devalue the only life we know we have, in the hopes of a better one later
Those are just the first ten I could think of. It wouldn't be hard to do a hundred more, depending on how fine-grained I wanted to get. But you get the idea.
Ask: If you want to destroy the church, what are your reasons? Your list is welcome in comments.
Ask: Why might members say that ex-Mormons "can leave the church, but they can't leave it alone"?
Answer: It's an attempt to silence ex-members, so that the only people giving information about the church is the church itself.
Ask: Does the church "leave people alone"?
Answer: No. It sends out tens of thousands of missionaries every year to convert people, it indoctrinates children, and it enmeshes itself in legislation — in country after country — to strip LGBT people of the legal right to their marriage relationships.
A lot of people — even ex-Mormons – say that you haven't really progressed until you can "move past it" and "leave it alone". Well, I hope I never do. I hope I never get so blasé about human suffering or deception that I could ever just leave the LDS Church alone.
I feel like I'm watching the church collapse in real time, but I won't be happy until it's shrunken into a hard conservative rump, and then divested of its membership and converted into The Corporation of Latter-day Real Estate. I won't be happy until every chapel is a community centre, and every temple is either a library or a bookstore, one of those nice ones where you can sit down and read and have a coffee.
Here are some photos of churches that have been converted to bookstores and libraries. Aren't they lovely?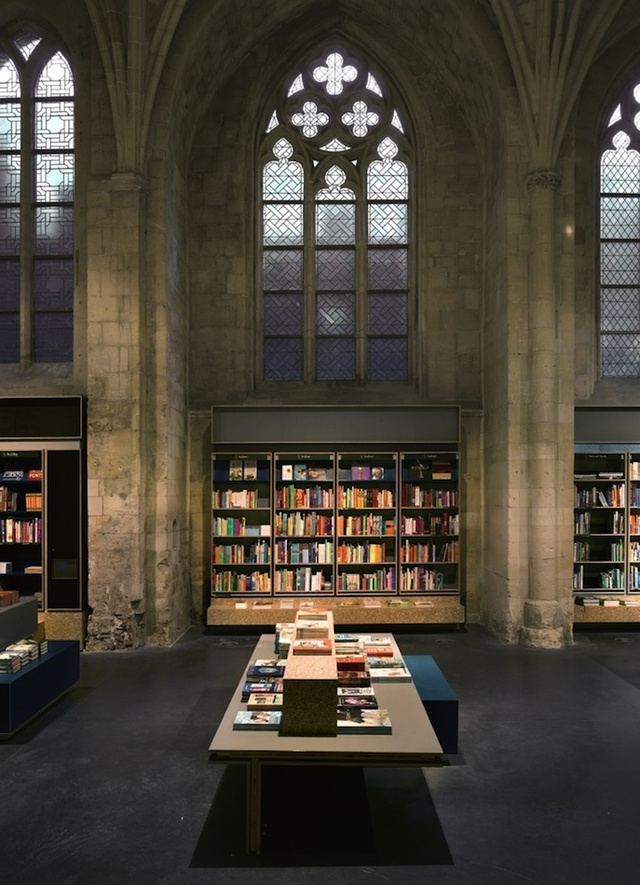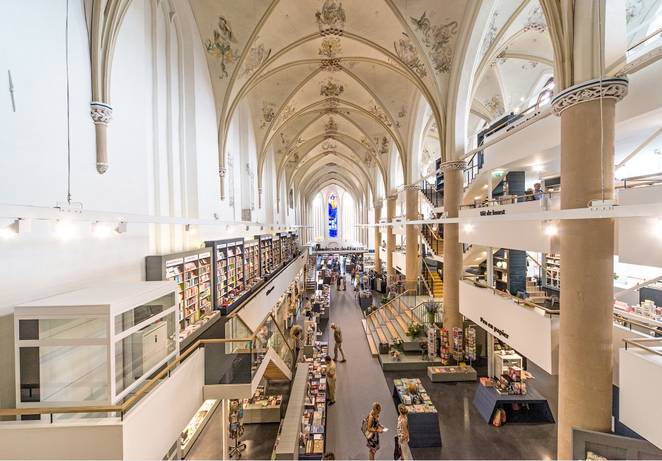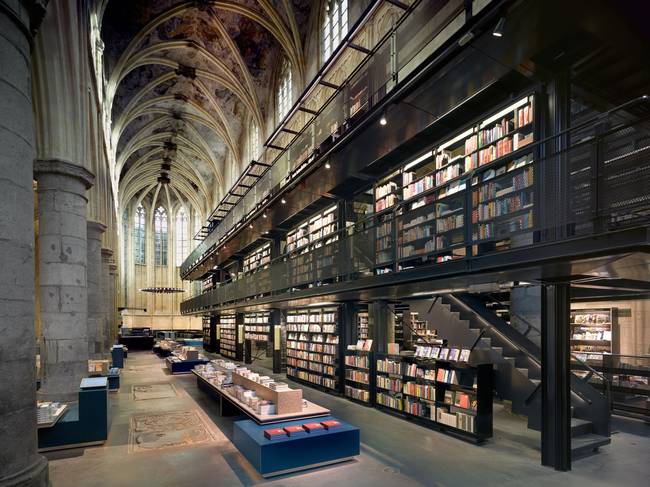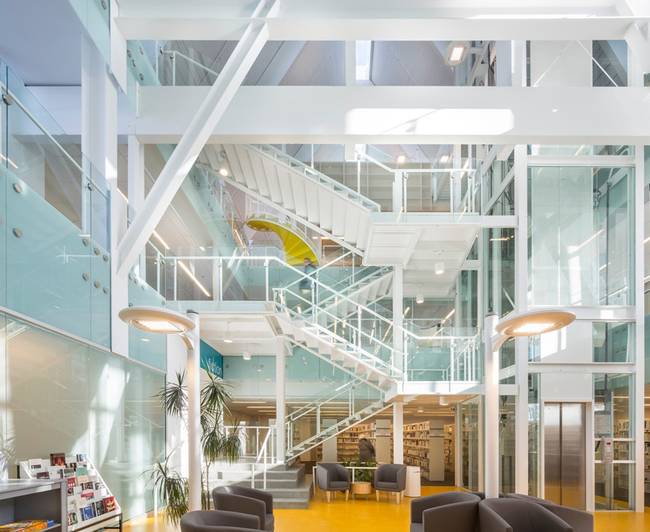 Anyway, here's what happened to Alma the Younger. Hint: It's a plagiarism of Paul's Road-to-Damascus story.
Mosiah 27:11 And as I said unto you, as they were going about rebelling against God, behold, the angel of the Lord appeared unto them; and he descended as it were in a cloud; and he spake as it were with a voice of thunder, which caused the earth to shake upon which they stood;
27:12 And so great was their astonishment, that they fell to the earth, and understood not the words which he spake unto them.
…
27:19 And now the astonishment of Alma was so great that he became dumb, that he could not open his mouth; yea, and he became weak, even that he could not move his hands; therefore he was taken by those that were with him, and carried helpless, even until he was laid before his father.
27:20 And they rehearsed unto his father all that had happened unto them; and his father rejoiced, for he knew that it was the power of God.
…
27:23 And it came to pass after they had fasted and prayed for the space of two days and two nights, the limbs of Alma received their strength, and he stood up and began to speak unto them, bidding them to be of good comfort:
27:24 For, said he, I have repented of my sins, and have been redeemed of the Lord; behold I am born of the Spirit.
From then on, they begin preaching. And why?
Mosiah 28:2 That perhaps they might bring them to the knowledge of the Lord their God, and convince them of the iniquity of their fathers; and that perhaps they might cure them of their hatred towards the Nephites, that they might also be brought to rejoice in the Lord their God, that they might become friendly to one another, and that there should be no more contentions in all the land which the Lord their God had given them.
28:3 Now they were desirous that salvation should be declared to every creature, for they could not bear that any human soul should perish; yea, even the very thoughts that any soul should endure endless torment did cause them to quake and tremble.
Again, it's all very nice of people to be concerned for my welfare. But if you believe that God is going to torture me forever — as the Book of Mormon clearly says — then this is your problem, not mine. And if you've decided to worship a being that would do that… then frankly, I'm concerned for you.
Your conclusions make sense in view of your beliefs. But it's your beliefs that are the problem.
Additional lesson ideas
Chiasmus
Oh boy, chiasmus! When apologists discovered this little angle in the 1970s, they thought they'd hit the freaking jackpot. A heretofore unknown form of Hebraic poetry, but one that appears in the Book of Mormon.
Chiasmus is a fairly simple way of structuring information. You give a bunch of items, and then give them again in reverse order. Isaiah (or "Isaiah") does this.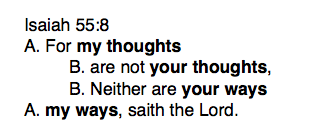 And take a look at the elaborate chiasm in Alma 36.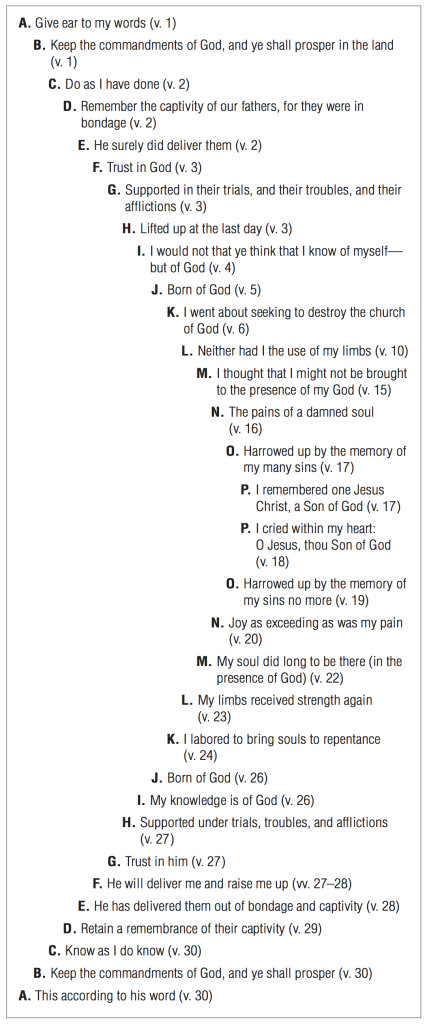 There you have it: Joseph Smith didn't know about Hebrew poetry, since he was but a simple and uneducated (?) farm boy who didn't never get no larnin'. But there chiasmus is, in the Book of Mormon. So surely this must be evidence of its Hebraic origins!
Well, not exactly. In the case of Alma 36, you have to ignore an awful lot of text to get the chiasm to work out properly. Check out Earl Wunderli's critique in Dialogue.
The existence of extended chiasmus in the Book of Mormon seems far from proved by Alma 36. While the inverted parallelism developed by Welch is impressive on first reading, on closer analysis it is Welch's creativity that is most notable. By following flexible rules, he has fashioned a chiasm by selecting elements from repetitious language, creatively labeling elements, ignoring text, pairing unbalanced elements, and even including asymmetrical elements.
And that's not taking into account all the real chiasmus that pops up in lots of non-scriptural places.
It appears in Dr Seuss's classic Green Eggs and Ham (PDF).


It shows up in Ralphie's letter to Santa, from A Christmas Story.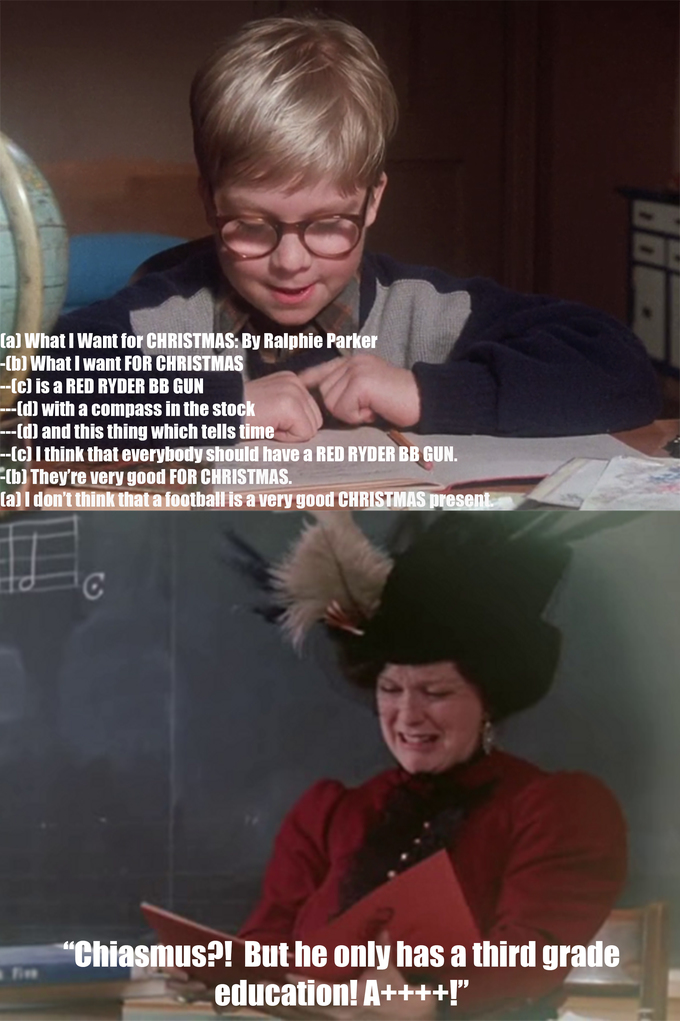 Would you believe that half-term US governor Sarah Palin has dipped into it on occasion?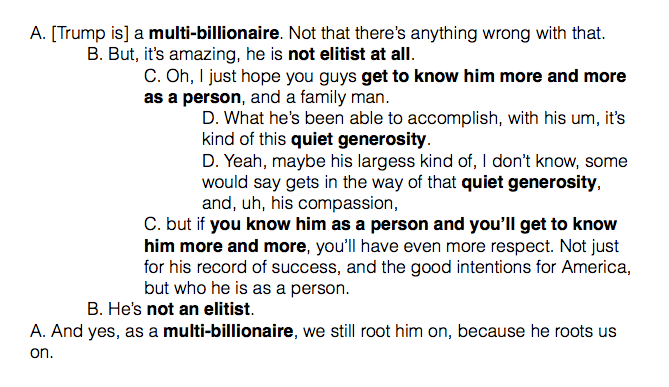 Clearly evidence of God's inspiration!
And more to the point, chiasmus was known and used by authors of Joseph Smith's time. Here's an equally elaborate example used in The Late War, a book of history retold in Biblical style, which bears a strong resemblance to the Book of Mormon.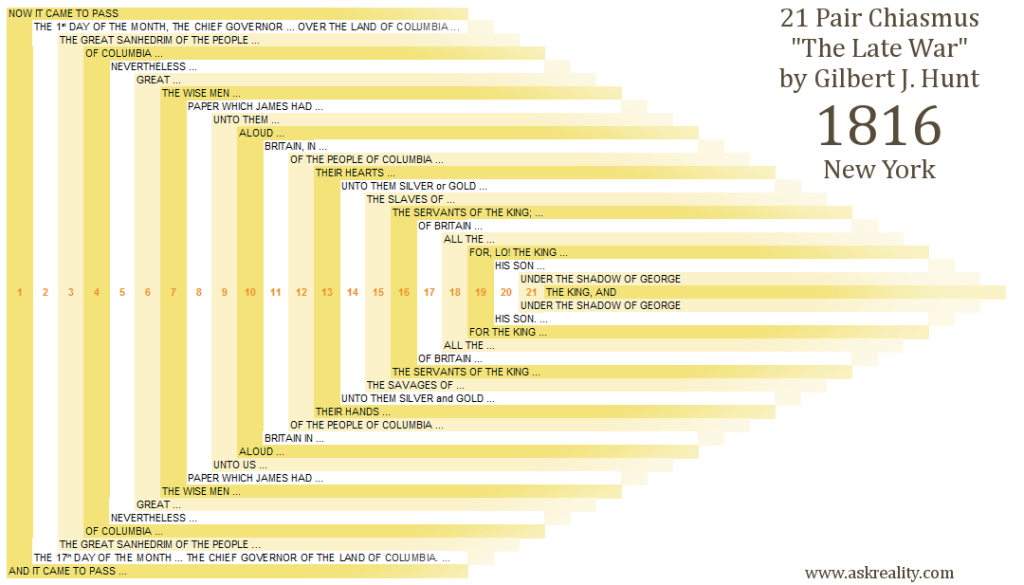 The fact is, chiasmus appears naturally in all kinds of places. It's not even hard to make a chiastic paragraph. It's just writing things in one order, and then writing them again in reverse order. In fact, in this very paragraph, I made some chiasmus myself. It's not rocket science. Chiasmus is a natural way of ordering information, and that's a fact.